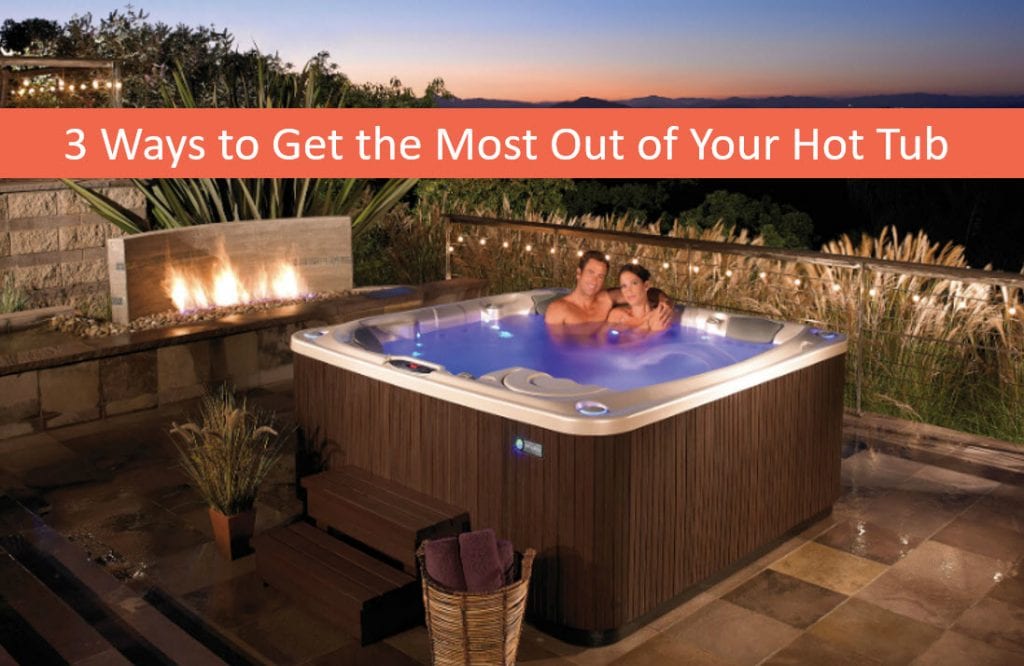 3 Ways to Get the Most Out of Your Portable Spa, Hot Tub Sale Santa Cruz
Hot tubs are a popular choice all over the world for fun and entertainment. They are also a great way to improve your health and live better. Are you getting the most out of your portable spa?
Here are the three top ways to get the most out of your hot tub.
Top it Off for All Weather Use of Your Hot Tub
Install your new hot tub under the patio roof or an overhang from the home when possible. Even if you didn't do that when you first brought your hot tub home, or you don't have a space with a roof, you can add one after it is installed by creating a gazebo to keep it covered in the yard. Having the hot tub under some covering gives you more flexibility for using the spa all year round. Portable spas are great even in the coldest weather, and provide continued benefits in all four seasons, even when it's raining.
Have a Family and Friends Night Each Week
Regular use of your hot tub will give you the most pleasure for your money. While operating a hot tub is very efficient, and modern technology allows for even greater energy saving features, if you aren't using it, you aren't getting the most out of it. Plan to use your hot tub regularly for yourself, and give your friends and family the benefits of a soothing hot tub experience by making a regular night (or day) each week for loved ones to visit and have fun around the portable spa.
Make it even easier for the people you care about to enjoy the lavish benefits of time around a hot tub by keeping extra towels and disposable slippers ready for them. Keeping a few extra suits in various sizes around is an additional way to encourage extra hot tub fun. With just a little preparation, even just dropping by your house can turn into a fun event of playing in the hot tub.
Don't Forget to Just Relax
Maybe you got a hot tub for the added luxury, additional entertainment space or to have fun with friends and family, but don't forget to use it for your own personal 'me time.' Sit back in the soothing water and meditate or listen to peaceful music to unwind and de-stress at the end of the day, or on a day off.
The hot tub is a great place to get into a good book too. Soak away the time and let your mind be transported into the pages of your favorite store while getting the healthy, relaxing benefits of the temperature-controlled water and soothing jet massage.
So Go Ahead, Take a Soak, You Deserve It!
It's fast, fun and relaxing. Not only that, it's good for the body, soothes the mind and can improve your overall health and well-being.
To encourage local residents to check out the benefits of using a hot tub to help improve their overall health and well-being, The Spa and Sauna Company is providing free test soaks at all their showrooms. We do recommend, however, that people wanting to schedule their free 30-minute soak call us ahead of time to reserve their spot.
To learn more about the benefits of owning a hot tub, just give us a call at 831-425-7727 or visit our website at: https://spaandsauna.com/locations-santa-cruz/.
Hot Spring Spas of San Jose
2627 S. Bascom Ave.
Campbell, CA 95008
☎ 408-996-9693
https://www.google.com/maps?cid=7239402217658860966
https://spaandsauna.com/locations-san-jose/
Hot Tubs San Jose
Hot Spring Spas of Santa Cruz
707 River St.
Santa Cruz, CA 95060
☎ 831-425-7727
https://www.google.com/maps?cid=7323132295424075120
https://spaandsauna.com/locations-santa-cruz/
The Spa and Sauna Co.
9748 So. Virginia St. Ste. C-D
Reno, NV 89511
☎ 775-852-3838
https://maps.google.com/?cid=2463027483589999860
https://spaandsauna.com/locations-south-virginia-st-reno/
The Spa and Sauna Shop
250 E Glendale Ave
Sparks, NV 89431
☎ 775-852-3838
https://maps.google.com/?cid=16064479716723701911
https://spaandsauna.com/locations-glendale-ave-sparks/
Reno Hot Spring Spas and Billiards
6815 Sierra Center Parkway #100
Reno, NV 89511
☎ 775-851-7727
https://maps.google.com/?cid=921080039542699057
https://spaandsauna.com/locations-sierra-center-parkway-reno/