Consider Joining The Spa and Sauna Co. Team!
Top Hot Tub Brands. Top Hot Tub Company.
Reasons to Join Us:
We're community favorites
There's room for advancement
There's Bonus Potential and Vesting
We're Growing
Workplace Perks/Team Building Activities
Employee Purchase Programs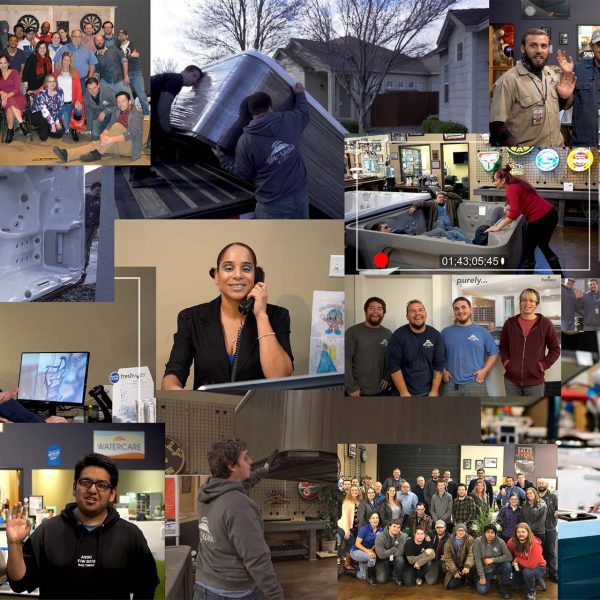 Our Mission
We exist to make known two little-known facts: (1) Everybody needs a hot tub, and (2) Everybody can have a hot tub.
Our Vision
We will accomplish our mission by maintaining and magnifying our position as the leading hot tub dealer in Northern Nevada and the Bay Area of California.
Our Values
We will maintain our leading position in the market by offering our customers the absolute best hot tub ownership experience.
Available Positions
(We are always looking for good people to join our team)
Concierge Service Technician – Reno, Nevada Showroom
JOB DESCRIPTION
Summary/Objective
The Concierge Technician is responsible for the completion of services and maintenance of hot tub customers. This includes traveling daily to customer residences to perform routine and seasonal maintenance tasks, test and maintain spa water chemistry, and check parts and accessories for replacement needs. The Concierge Technician is the face of The Spa and Sauna Company service department, and therefore must be friendly and professional and have a genuine interest in helping people.
Essential Functions
Reasonable accommodations may be made to enable individuals with disabilities to perform the essential functions.
Preparing the service vehicle with parts and supplies expected to be used during the workday in a timely manner.
Servicing and maintaining customer equipment thoroughly and efficiently.
Maintaining the stock status of commonly requested accessories and chemicals in the service vehicle.
Providing customers with basic education regarding their equipment and chemicals.
Informing customers of parts, accessories, or chemicals that they may need to replace or replenish in the reasonably near future along with their respective associated costs.
Maintaining the service schedule on a daily basis.
Maintaining the cleanliness and order of company service vehicles on a daily basis.
Maintaining a high level of communication with the Service Coordinator throughout the day, updating headquarters with information regarding the service schedule, service performed, and additional service needed for customers.
Competencies
Technical Capacity.
Ethical Conduct.
Communication Proficiency.
Maintenance Experience.
Limited Knowledge of Plumbing and Carpentry.
Computer Literate
Physical Demands
The physical demands described here are representative of those that must be met by an employee to successfully perform the essential functions of this job.
While performing the duties of this job, the employee is regularly required to talk and hear. This position is very active and requires standing, walking, bending, kneeling, stooping, crouching, crawling, and climbing all day. This position operates outdoors and will operate in varying weather conditions.
Position Type/Expected Hours of Work
This is a full-time position, and hours of work and days are Monday through Friday, 8:00 a.m. to 4 p.m. Additional hours as needed.\
Travel
Travel to different job sites in Northern Nevada and Northern California is frequent.
Required Education and Experience

High school diploma/GED required.
1+ years of maintenance, plumbing, or carpentry experience required.
Other Duties
Please note this job description is not designed to cover or contain a comprehensive listing of activities, duties or responsibilities that are required of the employee for this job. Duties, responsibilities and activities may change at any time with or without notice.
Email resumes to Operations Manager Ruthie Collins at ruthie@spaandsauna.com.
Retail Sales Clerk- Santa Cruz, CA Showroom
Job Purpose
The Retail Sales Clerk will be responsible for accepting payments & making change for customers, assisting in the restocking of shelves and general cleaning of the sales floor. The Retail Sales Clerk will also be responsible for obtaining customer lead information, which will be turned over to a Senior Sales member for the selling of big-ticket items.
Duties and Responsibilities
Reasonable accommodations may be made to enable individuals with disabilities to perform the essential functions.
Stock shelves, counters or tables with merchandise.
Set up advertising displays or arrange merchandise on counters or tables to promote sales.
Obtain customer information and accurately enter information
Obtain merchandise requested by customer or receive merchandise selected by customer.
Answer customer questions concerning location, price and use of merchandise.
Total price and tax on merchandise purchased by customer to determine bill.
Accept payment and make change. Wrap or bag merchandise for customers.
Remove and record amount of cash in register at end of shift.
Keep record of sales, prepare inventory of stock and order merchandise.
Keep the showroom clean and orderly.
Qualifications
The following are the minimum qualifications required to successfully perform this job. These are also the qualifications that are necessary for a candidate to be considered for the position.
A qualified candidate has achieved or can demonstrate:
High School diploma/GED
Basic mathematics skills
Computer literacy
Cash handling experience
Working Conditions
The working conditions for this position are standard for a retail sales position. The Retail Sales Clerk may be expected to assist with loading product into a customer's car, lifting product up to 20lbs, and assisting Inventory Control with counting or labelling.
Physical Requirements
The Retail Sales Clerk may be required to spend extended periods of time in a crouching or kneeling position and may be required to lift and carry up to 20 lbs.
This position requires dress and grooming appropriate for an office setting.
RANDOM DRUG TESTING MAY BE REQUIRED
*The above job description does not represent the full extent of duties. Duties can be assigned which may not correspond to the duties assigned.
Job Types: Full-time, Part-time
Experience:
retail: 1 year (Preferred)
Benefits offered:
Paid time off
Health insurance
Dental insurance
Employee discounts
Flexible schedules
Workplace perks such as food/coffee and flexible work schedules
Management:
Employees working per shift:
Pay Frequency:
Bi weekly or Twice monthly
Email resumes to General Manager Trish Ferris at trish@spaandsauna.com
Sales Representative – Santa Cruz, CA Showroom
We are looking for a Sales Representative at our busy Hot Tub retail location.
The Sales Representative is primarily responsible for generating an optimal combination of
revenue and customer satisfaction. This includes a variety of components, most notably being
nurturing prospective customers through the sales and delivery processes and into customer
retention after the initial sale. The Sales Representative is responsible for maintaining a
presentable sales environment and promoting the company within company standards.
This position does require weekends.
The following are the primary duties and responsibilities of the Sales Representative. The Sales
Representative is also responsible for overseeing or executing any task that is given to him/her
by a senior management member.
Executing company processes as outlined in the company's Sales & System Procedures handbook.
Executing company opening and closing procedures on a daily basis.
Acquiring prospective customer leads from various sources and nurturing them through the sales process.
Executing Point of Sale operations and generating customer orders as needed.
Maintaining a clean and presentable sales environment, including company showrooms, offices, and restrooms.
Actively pursuing and capitalizing on opportunities to increase the total value of any one sale.
This job is salary + bonus + commission, with our salespeople earning between $60,000 and $140,000 per year.
The requirements for this position are a High School Diploma or equivalent, the ability to work in small groups, and an interest in helping people. Knowledge of the hot tub industry is a plus!
Job Type: Full-time
Email resumes to General Manager Trish Ferris at trish@spaandsauna.com