Our certified pre-owned hot tubs are professionally inspected, cleaned, and refurbished.
Our used, demo, floor model, and discount hot tubs and spas can be purchased online.
They are available at our Sparks, NV Clearance Center and Santa Cruz, CA Showroom locations.
Hot tubs sell daily and additional hot tubs are available daily. Check stores for complete list, availability and details. Click an image for more details about a listed spa.
Your Certified Used/Pre-Owned Hot Tub will include the following: (Delivery is available)
Full 24 point diagnostic inspection
Warranty
New Filters
Serviceable spa cover
220V models may include an electrical sub panel
110V models include a water-tight receptacle cover
Owner's Manual
Complete water care chemical kit and/or in-home seminar
FEATURED USED HOT TUB
Used 2012 Caldera Paradise
Martinique Hot Tub

More Used Hot Tubs Listed Below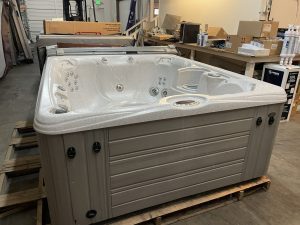 Sparks, NV Used Hot Tubs – Call for Pricing
Santa Cruz, CA Used Hot Tubs
Santa Cruz, CA Used Hot Tubs – Call for Pricing
Click here for information on future NV used hot tubs!
Click here For Information on future CA used hot tubs!
We acquire used and pre-owned hot tubs through our trade-in program. Most are from customers who bought the hot tub from us new. We often know the entire service history. We do not re-sell hot tubs that have been poorly maintained.
We have used spas at two primary locations – one in Sparks, NV and one in Santa Cruz, CA. The majority of our used spas are located at our Sparks, NV Clearance Center, although you may find the occasional used hot tub at one of our other locations in Nevada or California.
Once we have acquired the hot tub and certified it is in good condition, The Spa and Sauna Company personnel prepare it for resale. Our factory-trained technicians inspect the entire hot tub and all components. The pumps, heater assembly, all electronic components and plumbing in the equipment compartment are inspected and tested. Any part that needs to be replaced is replaced with new genuine factory parts, not used parts, like some companies provide. The shell is thoroughly cleaned. The air controls and jet selectors are checked. New filters are installed. The Moto-Massage jets and guide bodies are checked and replaced as needed. The hot tub is then filled and thoroughly wet tested.