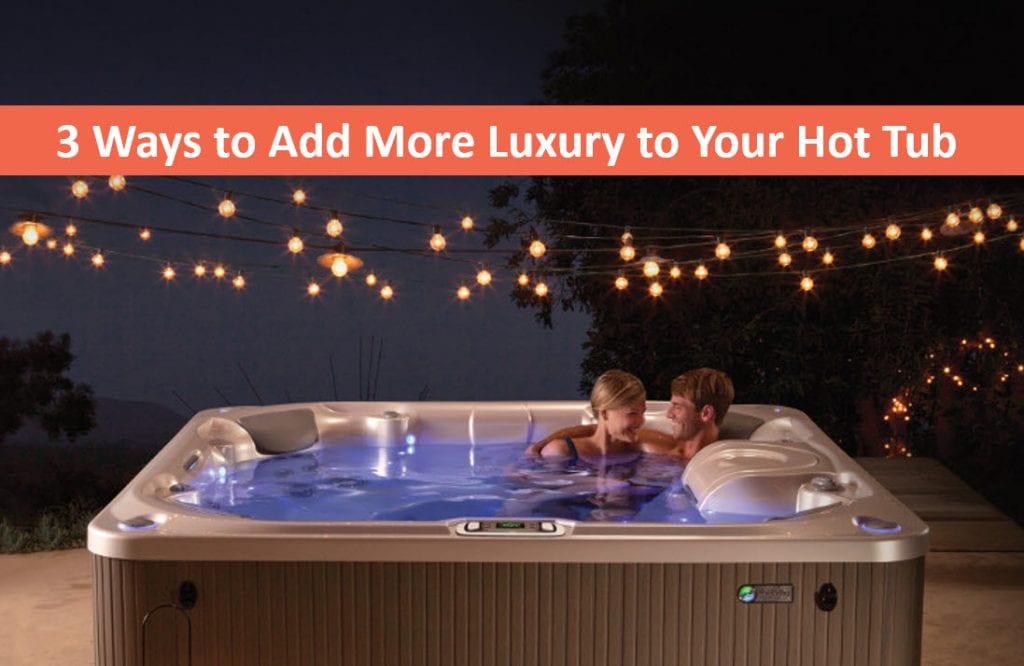 Add More Luxury to Your Spa, Hot Tubs Capitola
Want to be sure you are getting the best experience from your hot tub? All you need to do to enjoy the soothing environment of your hot tub is slip into the water. However, there are some things you can do to make your time in the hot tub even more relaxing and fun.
Here are three ways to add more luxury to your hot tub.
Create a Floating Food and Drink Station in Your Hot Tub
There are several ways you can make food and drink access easier in your hot tub for yourself and your loved ones. There are floating refreshment trays that have cup holders to keep drinks level and out of the water, and hold small plates of food for everyone to enjoy as they soak. You can also choose to add edge trays to your portable spa to keep food and drinks close at hand, so no one has to jump out of the water to get some refreshments.
The best beverage to have on hand for hot tub enjoyment is water. Water will keep you and the people you share the hot tub with hydrated, so you can enjoy soaking longer. Best of all, it doesn't have sugar in it. Be wary of having sugary drinks around the hot tub. Even when they are on the tray or in the proper holders, spills are possible, and sugar and hot tub filters do not get along well. Of course, an accidental spill won't destroy your hot tub, but it will make for a little extra maintenance cleaning.
Keep snacks light too, so you and your guests aren't too full to enjoy your time in the water. Finger sandwiches, small bite-sized treats and snacks are best for keeping around the hot tub to increase the fun and enhance the luxurious atmosphere.
Watch Your Video, Movie or TV Show
Enjoy live TV, stream video and more from inside your spa or while entertaining in your backyard.
With HDMI convenience, you can add a streaming stick or connect to any of your in-home video sources for a range of programming options.
Warm or Cool – It's Your Choice!
With the CoolZone System, you can heat and cool the water – something that is not possible with most spas. Enjoy a cool dip during the day and warm soak later that night.
The CoolZone system works with your spa's heater to efficiently raise the temperature in just a few hours.
So Go Ahead, Take a Soak, You Deserve It!
It's fast, fun and relaxing. Not only that, it's good for the body, soothes the mind and can improve your overall health and well-being.
To encourage local residents to check out the benefits of using a hot tub to help improve their overall health and well-being, The Spa and Sauna Company is providing free test soaks at all their showrooms. We do recommend, however, that people wanting to schedule their free 30-minute soak call us ahead of time to reserve their spot.
To learn more about the benefits of owning a hot tub, just give us a call at ☎ 831-425-7727 or visit our website at: https://spaandsauna.com/hot-tubs-capitola-sale-on-swim-spas/.
Hot Spring Spas of San Jose
2627 S. Bascom Ave.
Campbell, CA 95008
☎ 408-996-9693
https://www.google.com/maps?cid=7239402217658860966
https://spaandsauna.com/locations-san-jose/
Hot Tubs San Jose
Hot Spring Spas of Santa Cruz
707 River St.
Santa Cruz, CA 95060
☎ 831-425-7727
https://www.google.com/maps?cid=7323132295424075120
https://spaandsauna.com/locations-santa-cruz/
The Spa and Sauna Co.
9748 So. Virginia St. Ste. C-D
Reno, NV 89511
☎ 775-852-3838
https://maps.google.com/?cid=2463027483589999860
https://spaandsauna.com/locations-south-virginia-st-reno/
The Spa and Sauna Shop
250 E Glendale Ave
Sparks, NV 89431
☎ 775-852-3838
https://maps.google.com/?cid=16064479716723701911
https://spaandsauna.com/locations-glendale-ave-sparks/
Reno Hot Spring Spas and Billiards
6815 Sierra Center Parkway #100
Reno, NV 89511
☎ 775-851-7727
https://maps.google.com/?cid=921080039542699057
https://spaandsauna.com/locations-sierra-center-parkway-reno/