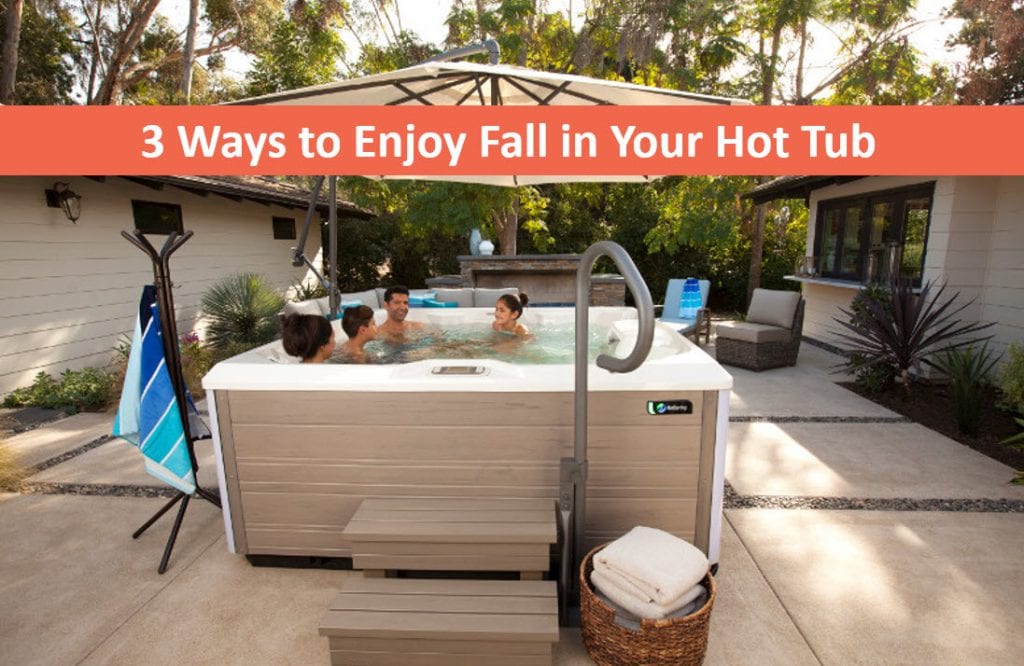 3 Ways to Enjoy Fall in Your Backyard Spa – Hot Tubs Sunnyvale, San Jose
Fall means changing leaves, football, big harvests, cooler days and nights, and cozy celebratory experiences like Thanksgiving and Halloween. Make the most of the season by creating great memories to last a lifetime.
Here are three ways to enjoy fall in your hot tub.
Keep the Family Warm
As the evenings cool, it's time to bring out the hot chocolate, light the bonfires, and sink into bubbly warmness. Adjust your hot tub temperature and bring the kiddos in to enjoy a custom, warm, jet stream massage together. Talk about school, football, and make holiday plans. And, when the evening comes tomorrow, do it all over again.
Entertain Guests
When the blustery weather and holiday festivities approach, it's time to come together with family and friends. A hot tub offers a perfect cool-weather centerpiece for entertaining. Invite guests to the hot tub and watch the game on an LCD hot tub screen. Or, set the mood with low-playing music with surround sound and play water games guests of all ages will love.
Prepare for Early Sleep
Shorter days and school season means early nights and long sleeps. Your hot tub can help the whole family sleep better. Warm water massage releases calming endorphins to unwind from busy days. And, after a warm soak, exiting a hot tub mimics our natural temperature drop as we fall asleep.
So Go Ahead, Take a Soak, You Deserve It!
It's fast, fun and relaxing. Not only that, it's good for the body, soothes the mind and can improve your overall health and well-being.
To encourage local residents to check out the benefits of using a hot tub to help improve their overall health and well-being, The Spa and Sauna Company and Hot Spring Spas of San Jose are providing free test soaks at all their showrooms. We do recommend, however, that people wanting to schedule their free 30-minute soak call us ahead of time to reserve their spot.
To learn more about the benefits of owning a hot tub, just give us a call at ☎ 408-996-9693 or visit our website at: Hot Tubs Sunnyvale.
Hot Spring Spas of San Jose
2627 S. Bascom Ave.
Campbell, CA 95008
☎ 408-996-9693
https://www.google.com/maps?cid=7239402217658860966
https://spaandsauna.com/locations-san-jose/
Hot Tubs San Jose
Hot Spring Spas of Santa Cruz
707 River St.
Santa Cruz, CA 95060
☎ 831-425-7727
https://www.google.com/maps?cid=7323132295424075120
https://spaandsauna.com/locations-santa-cruz/
The Spa and Sauna Co.
9748 So. Virginia St. Ste. C-D
Reno, NV 89511
☎ 775-852-3838
https://maps.google.com/?cid=2463027483589999860
https://spaandsauna.com/locations-south-virginia-st-reno/
The Spa and Sauna Shop
250 E Glendale Ave
Sparks, NV 89431
☎ 775-852-3838
https://maps.google.com/?cid=16064479716723701911
https://spaandsauna.com/locations-glendale-ave-sparks/
Reno Hot Spring Spas and Billiards
6815 Sierra Center Parkway #100
Reno, NV 89511
☎ 775-851-7727
https://maps.google.com/?cid=921080039542699057
https://spaandsauna.com/locations-sierra-center-parkway-reno/
Hot Tubs Sunnyvale, Hot Tub Sale Sunnyvale, Sunnyvale Portable Spas, Sunnyvale Hot Tub Dealer