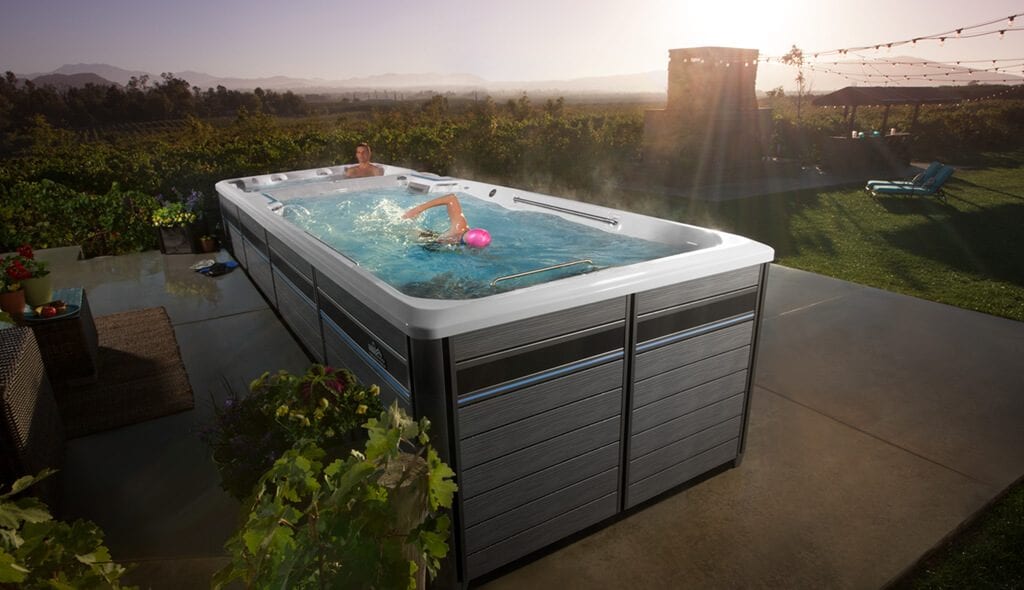 Tips for Healthy Aging – Swim Spas Lake Tahoe
"Staying healthy and taking aging seriously from a young age is the best way to enjoy life longer. A healthy lifestyle keeps us emotionally healthy and prevents injuries," said Scott Clark, president of The Spa and Sauna Company.
Here are 3 timely tips for healthy aging.
Enjoy Free Time Relaxing in a Lake Tahoe Swim Spa
– Soaking 20-30 minutes a day in a swim spa or a hot tub offers superior health benefits. With warm, soothing water, a heated swim spa or hot tub is always the perfect temperature, providing spot massage through jet-controlled streams of water. The hot, soothing water is also a great way to reduce stress and relieve aches and pains that impact the body over time.
Exercise Every Day – Incorporating some form of physical activity into each day is an important part of healthy aging. Exercise triggers the release of endorphins to help the body feel better and fight pain. Regular physical activity also provides a sense of purpose, creating stronger emotional connections to those who are most important to us.
A Healthy Mind Helps Keep a Body Healthy – As important as exercise is to our physical health, it is equally important to our minds. Spend time every day working on ways to exercise the mind for a healthier way to age.
To encourage local residents to check out the benefits of using a swim spa or hot tub to help improve their overall health and well-being, The Spa and Sauna Company is providing free test soaks at all their showrooms.
They do recommend however that people wanting to schedule their free 30-minute soak call them ahead of time to reserve their spot.
To learn more about the benefits of owning a hot tub, pick up a copy of their free buyer's guide, How to Buy a Hot Tub The Right Way! Just call 775-852-3838 or visit https://www.spaandsauna.com
The Spa and Sauna Co.
9748 So. Virginia St. Ste. C-D
Reno, NV 89511
☎ 775-852-3838
https://maps.google.com/?cid=2463027483589999860
The Spa and Sauna Shop
250 E Glendale Ave
Sparks, NV 89431
☎ 775-852-3838
https://maps.google.com/?cid=16064479716723701911
Reno Hot Spring Spas and Billiards
6815 Sierra Center Parkway #100
Reno, NV 89511
☎ 775-851-7727
https://maps.google.com/?cid=921080039542699057