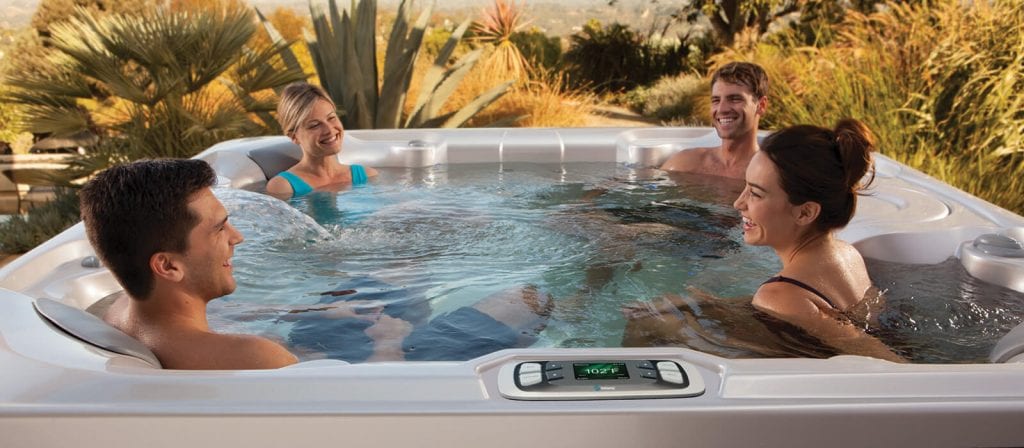 Portable Spa Dealer Shares New Year Health Tips – Hot Tubs Sparks
"People do not have to go to extremes to achieve a healthier lifestyle in the New Year," said Scott Clark, president of The Spa and Sauna Company.
Here are three simple ways to make this year the best it can be.
Relax to Enjoy a Healthier Life – Learn to relax and get rid of tension by creating a stress-free environment in the home. Add a portable ho tub to the yard or on a patio and give everyone in the house space to de-stress at the end of the day. With many extras like lighting, music or televisions, a hot tub provides all-around entertainment for the whole family.
Set Realistic Goals – New Year's resolutions often fail because people set goals that are difficult or impossible to achieve. Expecting to lose a significant amount of weight for instance, in a short period of time may be unrealistic, leading to disappointment. Set small, realistic goals that will be easier to achieve.
Get Fit 10 Minutes at a Time – It isn't necessary to exercise for hours each day to achieve a healthier life. Plan to make small lifestyle changes by adding short activities to a daily schedule. Walk through lunch, take the stairs, or park in the back of the parking lot to add physical activity to each day.
To encourage local residents to check out the benefits of using a swim spa or hot tub to help improve their overall health and well-being, The Spa and Sauna Company is providing free test soaks at all their showrooms.
They do recommend however that people wanting to schedule their free 30-minute soak call them ahead of time to reserve their spot.
To learn more about the benefits of owning a hot tub, pick up a copy of our free buyer's guide… How to Buy a Hot Tub The Right Way! Just give us a call or visit our website at: https://www.spaandsauna.com
The Spa and Sauna Co.
9748 So. Virginia St. Ste. C-D
Reno, NV 89511
☎ 775-852-3838
https://maps.google.com/?cid=2463027483589999860
The Spa and Sauna Shop
250 E Glendale Ave
Sparks, NV 89431
☎ 775-852-3838
https://maps.google.com/?cid=16064479716723701911
Reno Hot Spring Spas and Billiards
6815 Sierra Center Parkway #100
Reno, NV 89511
☎ 775-851-7727
https://maps.google.com/?cid=921080039542699057
https://twitter.com/spansaunashop
https://www.facebook.com/SpaAndSaunaShop
http://www.houzz.com/pro/webuser-261914/the-spa-and-sauna-shop