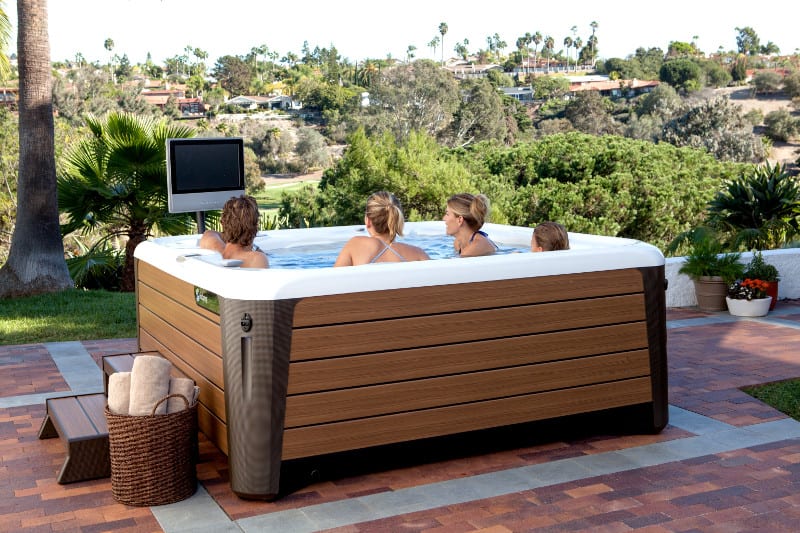 Portable Spas Can Ease Knee Pain, Hot Tubs Fernley
Knee pain caused by arthritis, injury or overuse is never fun. With swelling, stiffness and constant pain, relief is priority number one. When medications and over the counter drugs aren't working, a few minutes in the hot tub may be a practical alternative. Here are three ways soaking in the hot tub can ease knee pain.
Buoyancy for Support
Immersion in hot tub water reduces body weight by as much as 90 percent. With less strain and pressure placed on the knees, it's easy to stretch and relax without discomfort. A few soothing minutes of joint support makes facing the day easier.
Muscle Strengthening
Leg exercises strengthen quadriceps, a sure way to bring relief to chronic knee pain. Strengthening muscles lessens the impact placed on knees from walking and performing many daily activities. Exercise in the hot tub and the added benefit of heat loosens and relaxes muscles for better performance.
Increased Mobility
A few minutes of soaking in warm water relaxes muscles, increasing flexibility and improving range of motion. Stiff joints that before were difficult to move become loose, as heat and massage target pain for easier movement.
So Go Ahead, Take a Soak, You Deserve It!
It's, fast, fun and relaxing. Not only that, it's good for the body, soothes the mind and can improve your overall health and well-being.
To encourage local residents to check out the benefits of using a hot tub to help improve their overall health and well-being, The Spa and Sauna Company is providing free test soaks at all their showrooms. We do recommend, however, that people wanting to schedule their free 30-minute soak call us ahead of time to reserve their spot.
To learn more about the benefits of owning a hot tub, just give us a call at 775-852-3838 or visit our website at: http://www.spaandsauna.com.
The Spa and Sauna Co.
9748 So. Virginia St. Ste. C-D
Reno, NV 89511
☎ 775-852-3838
https://maps.google.com/?cid=2463027483589999860
https://spaandsauna.com/locations-south-virginia-st-reno/
The Spa and Sauna Shop
250 E Glendale Ave
Sparks, NV 89431
☎ 775-852-3838
https://maps.google.com/?cid=16064479716723701911
https://spaandsauna.com/locations-glendale-ave-sparks/
Reno Hot Spring Spas and Billiards
6815 Sierra Center Parkway #100
Reno, NV 89511
☎ 775-851-7727
https://maps.google.com/?cid=921080039542699057
https://spaandsauna.com/locations-sierra-center-parkway-reno/