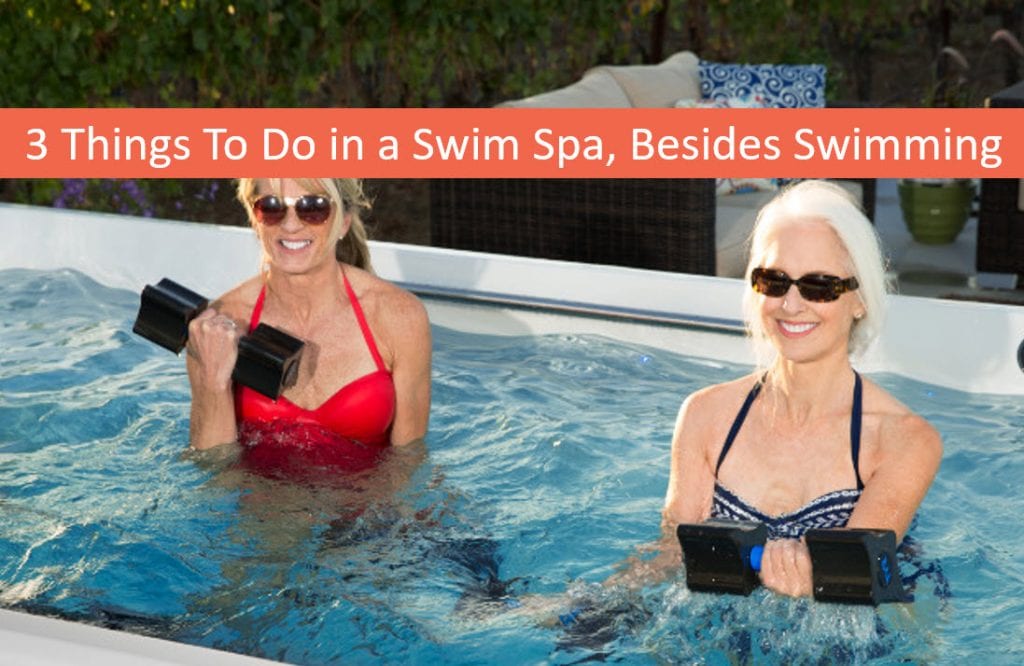 3 Things To Do in a Swim Spa, Besides Swimming, Best Swim Spa Prices Santa Cruz
Swim spa owners love the fact that they can swim laps without ever hitting the wall or having to turn around. But what happens if you don't feel like swimming, is there anything else you can do in this one, exciting machine? Absolutely!
Here are three more things to do in a swim spa at home.
1 – Go Kayaking or Canoeing
Don't live near a lake? No problem! With a swim spa at home you can take the thrill to the backyard with your very own adjustable current for kayaking or canoeing. Teach the kids the in's and out's of the sport, or turn the current up high and experience the excitement of kayaking against the waves.
2 – Use an Underwater Treadmill
Many of us rely on outdoor running to stay fit and trim. But why fight traffic, weather and other obstacles when you can equip your swim spa with a treadmill and take your workout to the next level. Water adds an element of natural resistance that increases intensity—even while walking—for more caloric burn and faster results. Plus, water provides support, ensuring joints stay safe and protected, experiencing far less impact with every step.
3 – Relax and Restore with Hydromassage
Some of the best swim spas offer two exciting machines in one: a lap pool and a hot tub spa. Separate sections even deliver dual temperatures, for a refreshing swim at one end, and a relaxing spa retreat complete with massaging jets at the other. The perfect solution for easing aches and pains, reducing stress and even promoting a deep, restful sleep, swim spa hydrotherapy is a smart, practical way to help the body relax and restore.
So Go Ahead, Take a Swim, You Deserve It!
It's, fast, fun and relaxing. Not only that, it's good for the body, soothes the mind and can improve your overall health and well-being.
To encourage local residents to check out the benefits of using a swim spa to help improve their overall health and well-being, The Spa and Sauna Company is providing free swim spa test soaks at all their showrooms. We do recommend, however, that people wanting to schedule their free 30-minute test call us ahead of time to reserve their spot.
To learn more about the benefits of owning a swim spa, just give us a call at ☎ 831-425-7727 or visit our website at: https://www.spaandsauna.com/endless-pools-fitness-systems.
Hot Spring Spas of Santa Cruz
707 River St.
Santa Cruz, CA 95060
☎ 831-425-7727
https://www.google.com/maps?cid=7323132295424075120
https://spaandsauna.com/locations-santa-cruz/
Hot Spring Spas of San Jose
2627 S. Bascom Ave.
Campbell, CA 95008
☎ 408-996-9693
https://www.google.com/maps?cid=7239402217658860966
https://spaandsauna.com/locations-san-jose/
Swim Spas San Jose
The Spa and Sauna Co.
9748 So. Virginia St. Ste. C-D
Reno, NV 89511
☎ 775-852-3838
https://maps.google.com/?cid=2463027483589999860
https://spaandsauna.com/locations-south-virginia-st-reno/
The Spa and Sauna Shop
250 E Glendale Ave
Sparks, NV 89431
☎ 775-852-3838
https://maps.google.com/?cid=16064479716723701911
https://spaandsauna.com/locations-glendale-ave-sparks/
Reno Hot Spring Spas and Billiards
6815 Sierra Center Parkway #100
Reno, NV 89511
☎ 775-851-7727
https://maps.google.com/?cid=921080039542699057
https://spaandsauna.com/locations-sierra-center-parkway-reno/