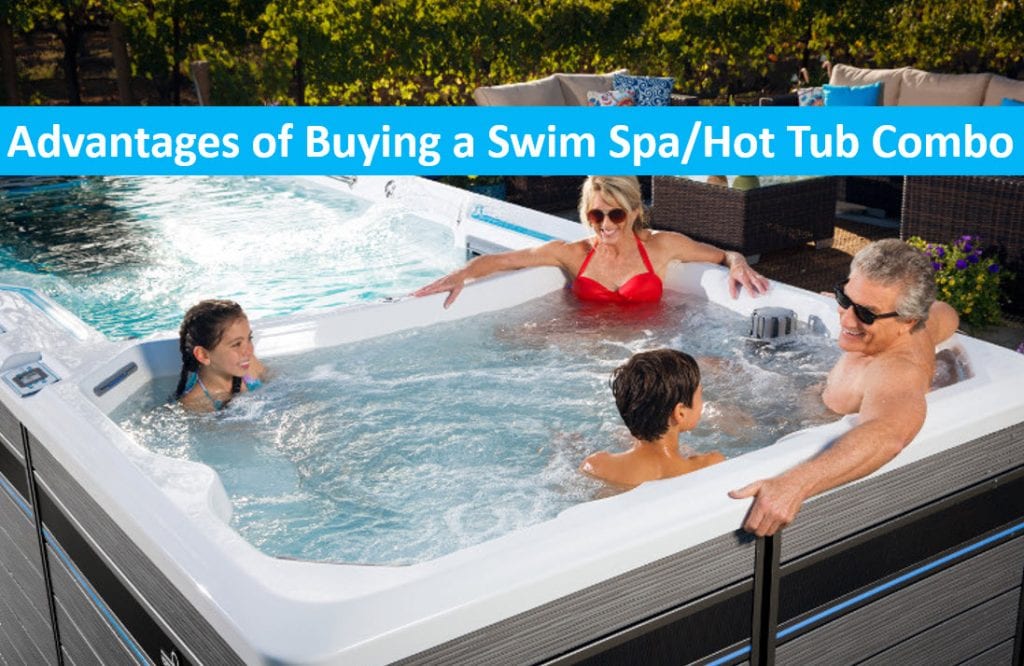 Advantages of Buying a Combination Lap Pool and Hot Tub – Swim Spas Capitola
Swim spas are an excellent choice for enjoying all of the health benefits of swimming and aerobic exercise in a smaller, more cost-effective way. Choosing a swim spa and hot tub combination gives users even more physical, emotional and mental health benefits.
Here are some of the advantages of buying a combination swim spa and hot tub.
The Hot Tub Swim Spa for Muscle and Joint Health
A swim spa is all that's necessary for getting in a great workout in the backyard. Swimming and aerobic exercises are both excellent choices for people of all ages and physical conditions. Water aerobic exercises are also great therapy for individuals recovering from illness or injury. With a hot tub added to one end of the swim spa people can enjoy the added benefits of added benefits of hydrotherapy and deep muscle massage for aching joints and muscles. The biggest benefit of the dual section combo unit is that the hot tub section can be heated to the desired therapy level leaving the swim spa side at a comfortable swimming temperature.
Adding a Hot Tub for Extra Luxury
Of course, a swim spa alone is a luxurious and entertaining piece of equipment but having a hot tub addition incorporated into the unit offers up a more lavish atmosphere for the family to enjoy.
Something for Everyone
Having a swim spa and hot tub combination creates an instant entertainment area in the yard or on the patio. Friends and family will be drawn to the swirling hot water of the hot tub for fun, health and festivities while kids and other adults that want to either exercise or just play can enjoy the larger swimming area.
When thinking about adding a swim spa to the yard, keep in mind that including a hot tub combination with it won't take up much more space, if any at all. Having the extra hot tub element will be a valuable addition and increase the fun and enjoyment of the swim spa for everyone in the family.
So Go Ahead, Take a Swim, You Deserve It!
It's, fast, fun and relaxing. Not only that, it's good for the body, soothes the mind and can improve your overall health and well-being.
To encourage local residents to check out the benefits of using a swim spa to help improve their overall health and well-being, The Spa and Sauna Company is providing free swim spa test soaks at all their showrooms. We do recommend, however, that people wanting to schedule their free 30-minute test call us ahead of time to reserve their spot.
To learn more about the benefits of owning a swim spa, just give us a call at ☎ 831-425-7727 or visit our website at: Swim Spas Capitola.
Hot Spring Spas of San Jose
2627 S. Bascom Ave.
Campbell, CA 95008
☎ 408-996-9693
https://www.google.com/maps?cid=7239402217658860966
https://spaandsauna.com/locations-san-jose/
Swim Spas San Jose
Hot Spring Spas of Santa Cruz
707 River St.
Santa Cruz, CA 95060
☎ 831-425-7727
https://www.google.com/maps?cid=7323132295424075120
https://spaandsauna.com/locations-santa-cruz/
The Spa and Sauna Co.
9748 So. Virginia St. Ste. C-D
Reno, NV 89511
☎ 775-852-3838
https://maps.google.com/?cid=2463027483589999860
https://spaandsauna.com/locations-south-virginia-st-reno/
The Spa and Sauna Shop
250 E Glendale Ave
Sparks, NV 89431
☎ 775-852-3838
https://maps.google.com/?cid=16064479716723701911
https://spaandsauna.com/locations-glendale-ave-sparks/
Reno Hot Spring Spas and Billiards
6815 Sierra Center Parkway #100
Reno, NV 89511
☎ 775-851-7727
https://maps.google.com/?cid=921080039542699057
https://spaandsauna.com/locations-sierra-center-parkway-reno/