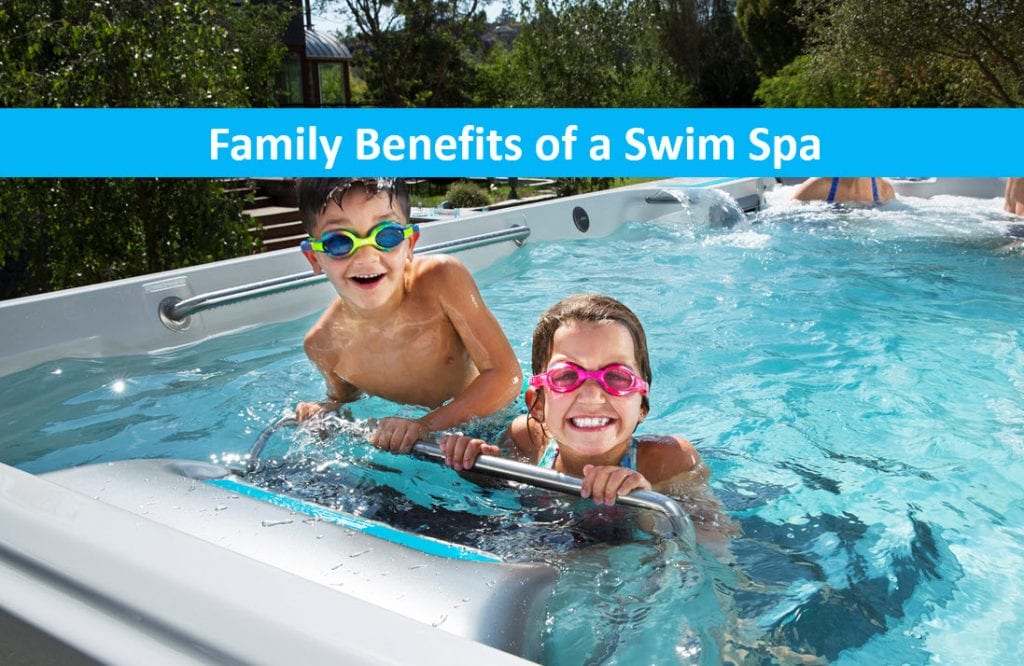 Family Benefits of a Swim Spa, Mountain View Lap Pool Dealer
Quality time together is key to keeping a healthy, happy family. But when movies, board games and dinners get boring, what else can you do? How about spending some exciting and healthy time in the family swim spa?
The modern alternative to the traditional pool, here are three of the best benefits for families with a swim spa at home.
Easy Health and Fitness
The swim spa creates a great opportunity to give your kids a smart way to stay active and fit. They can swim, splash and enjoy all kinds of aquatic exercise right from the convenience of home. And, with indoor use, your swim spa is available 365 days a year, despite the weather!
Reduced Screen Time
How about getting the kids off the video games and televisions for a few hours a day? A swim spa is one more activity they'll enjoy that doesn't involve electronics. Encourage them to invite a friend over and lounge in the pool, or take in a few relaxing minutes with mom and dad in the hot tub portion of the swim spa.
Fun, Socialization and Bonding
Trying to get your kids to spend more time together with the family? A swim spa at home is the perfect opportunity to grab a swimsuit and towel and hit the water together. Kids of all ages will look forward to joining mom and dad for some exciting fun in the family swim spa.
So Go Ahead, Take a Swim, You Deserve It!
It's, fast, fun and relaxing. Not only that, it's good for the body, soothes the mind and can improve your overall health and well-being.
To encourage local residents to check out the benefits of using a swim spa to help improve their overall health and well-being, The Spa and Sauna Company is providing free swim spa test soaks at all their showrooms. We do recommend, however, that people wanting to schedule their free 30-minute test call us ahead of time to reserve their spot.
To learn more about the benefits of owning a swim spa, just give us a call at ☎ 408-996-9693 or visit our website at:
Mountain View Swim Spas.
Hot Spring Spas of San Jose
2627 S. Bascom Ave.
Campbell, CA 95008
☎ 408-996-9693
https://www.google.com/maps?cid=7239402217658860966
https://spaandsauna.com/locations-san-jose/
Swim Spas San Jose
Hot Spring Spas of Santa Cruz
707 River St.
Santa Cruz, CA 95060
☎ 831-425-7727
https://www.google.com/maps?cid=7323132295424075120
https://spaandsauna.com/locations-santa-cruz/
The Spa and Sauna Co.
9748 So. Virginia St. Ste. C-D
Reno, NV 89511
☎ 775-852-3838
https://maps.google.com/?cid=2463027483589999860
https://spaandsauna.com/locations-south-virginia-st-reno/
The Spa and Sauna Shop
250 E Glendale Ave
Sparks, NV 89431
☎ 775-852-3838
https://maps.google.com/?cid=16064479716723701911
https://spaandsauna.com/locations-glendale-ave-sparks/
Reno Hot Spring Spas and Billiards
6815 Sierra Center Parkway #100
Reno, NV 89511
☎ 775-851-7727
https://maps.google.com/?cid=921080039542699057
https://spaandsauna.com/locations-sierra-center-parkway-reno/