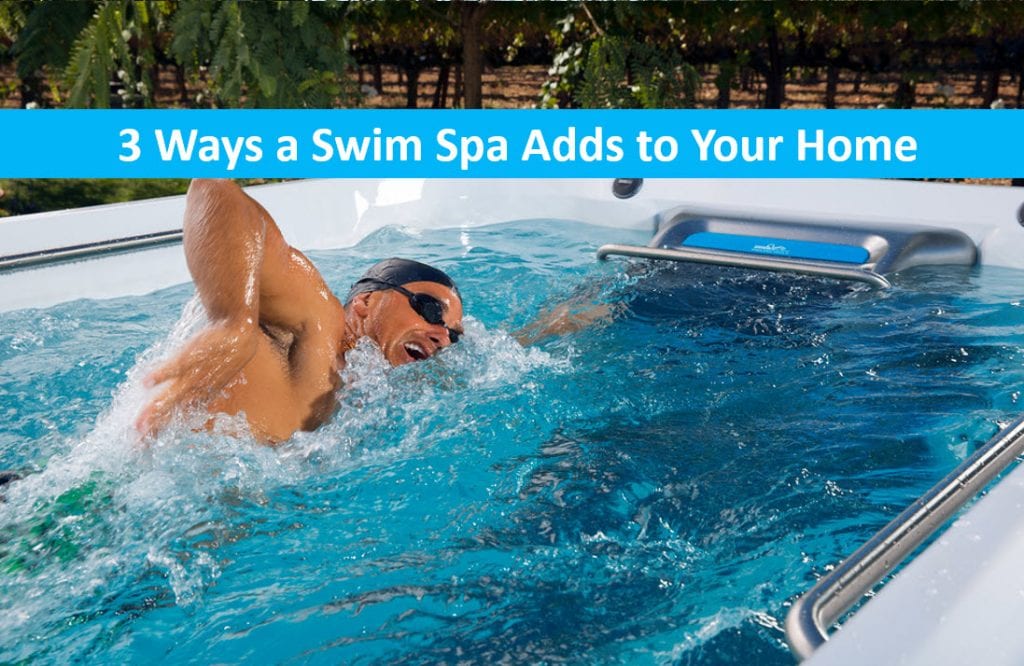 3 Ways a Swim Spa Adds to a Home, Swim Spas Scotts Valley
Let's face it, most yards are too small for a pool big enough to swim laps. But a swim spa uses far less space than even a small above ground pool and packs all the exercise power for all around fitness performance.
Here are three ways a swim spa adds to the home and gives people the most for their money.
Easy Access to Fitness
Swimming is one of the best all-around fitness activities. It is aerobic, tones and helps people reach and maintain a healthy weight. Swim spas also can be fitted with underwater treadmills and extra fitness equipment, like rowing stations, for a complete fitness system right in the backyard.
Great Entertainment Value
A swim spa is an excellent addition to the yard.
Kids and adults of all ages will love to swim in the swim spa using the powerful swim current technology to swim for miles without ever stopping, turning, or hitting a wall.
Soothing Hydrotherapy for All Ages
Whether to simply relieve the strain and tension of a long day or have injuries that ache and need to heal, soaking in the hot tub side of a swim spa will offer healing benefits. The powerful jets of a swim spa hot tub offer relief for people of all ages.
So Go Ahead, Take a Swim, You Deserve It!
It's, fast, fun and relaxing. Not only that, it's good for the body, soothes the mind and can improve your overall health and well-being.
To encourage local residents to check out the benefits of using a swim spa to help improve their overall health and well-being, The Spa and Sauna Company is providing free swim spa test soaks at all their showrooms. We do recommend, however, that people wanting to schedule their free 30-minute test call us ahead of time to reserve their spot.
To learn more about the benefits of owning a swim spa, just give us a call at ☎ 408-996-9693 or visit our website at:
Swim Spas Scotts Valley.
Hot Spring Spas of San Jose
2627 S. Bascom Ave.
Campbell, CA 95008
☎ 408-996-9693
https://www.google.com/maps?cid=7239402217658860966
https://spaandsauna.com/locations-san-jose/
Swim Spas San Jose
Hot Spring Spas of Santa Cruz
707 River St.
Santa Cruz, CA 95060
☎ 831-425-7727
https://www.google.com/maps?cid=7323132295424075120
https://spaandsauna.com/locations-santa-cruz/
The Spa and Sauna Co.
9748 So. Virginia St. Ste. C-D
Reno, NV 89511
☎ 775-852-3838
https://maps.google.com/?cid=2463027483589999860
https://spaandsauna.com/locations-south-virginia-st-reno/
The Spa and Sauna Shop
250 E Glendale Ave
Sparks, NV 89431
☎ 775-852-3838
https://maps.google.com/?cid=16064479716723701911
https://spaandsauna.com/locations-glendale-ave-sparks/
Reno Hot Spring Spas and Billiards
6815 Sierra Center Parkway #100
Reno, NV 89511
☎ 775-851-7727
https://maps.google.com/?cid=921080039542699057
https://spaandsauna.com/locations-sierra-center-parkway-reno/