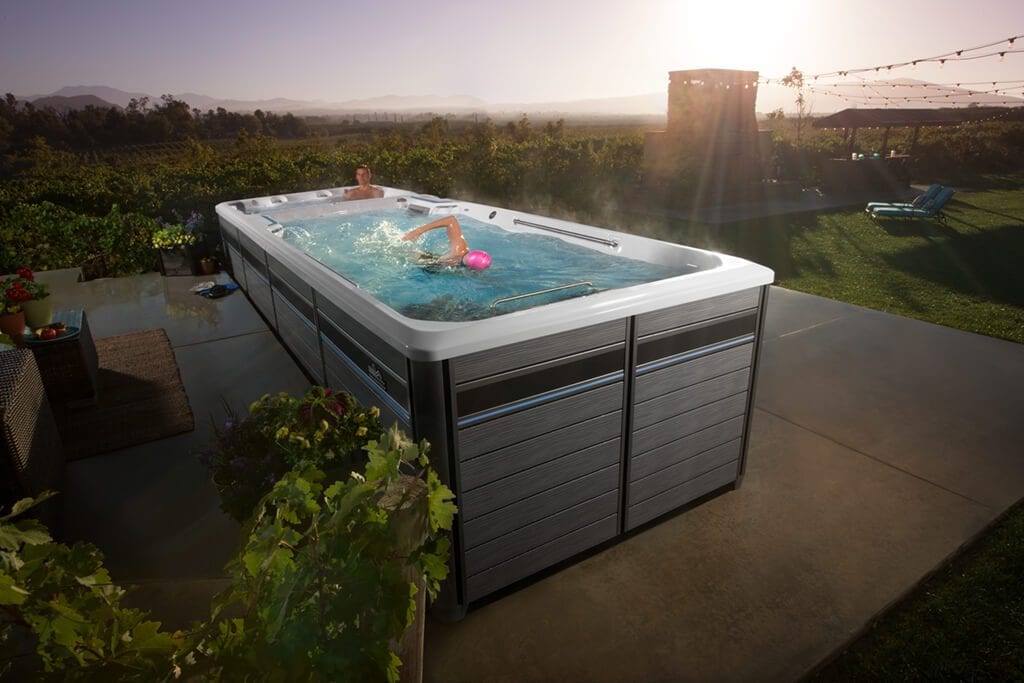 Health Benefits Using a Lap Pool at Home, Swim Spas Truckee
Forget about lifting heavy weights, or trying to keep up in a group exercise class. A versatile swim spa offers incredible health and fitness just from having fun!
Here are three amazing and easy to realize benefits from a swim spa from home.
Weight Loss and Muscle Toning
– Whether you swim laps, stretch or use resistance bands for weight training, spending time in the water is a fast way to shape and tone the body. Lap swimming is aerobic, meaning it works the heart, while maximizing caloric burn for easy weight loss.
Reduced Fatigue, Improved Energy– Make sluggish days and tired afternoons a thing of the past with a regular session in the swim spa. Jump on in and move around for an instant energy boost that stays with you all day long. Make a swim a daily habit and reduce chronic fatigue in a safe, healthy way.
Improved Mobility, Flexibility-If your joints are damaged, or you suffer with mobility issues from a chronic condition like arthritis, the swim spa is a secret weapon. With water to cushion joints, movement is easy and effortless, meaning you can finally exercise without pain.
So Go Ahead, Take a Swim, You Deserve It!
It's, fast, fun and relaxing. Not only that, it's good for the body, soothes the mind and can improve your overall health and well-being.
To encourage local residents to check out the benefits of using a swim spa to help improve their overall health and well-being, The Spa and Sauna Company is providing free swim spa test soaks at all their showrooms. We do recommend, however, that people wanting to schedule their free 30-minute test call us ahead of time to reserve their spot.
To learn more about the benefits of owning a swim spa, just give us a call at ☎ 775-852-3838 or visit our website at: https://www.spaandsauna.com/endless-pools-fitness-systems.
The Spa and Sauna Co.
9748 So. Virginia St. Ste. C-D
Reno, NV 89511
☎ 775-852-3838
https://maps.google.com/?cid=2463027483589999860
The Spa and Sauna Shop
250 E Glendale Ave
Sparks, NV 89431
☎ 775-852-3838
https://www.spaandsauna.com
https://maps.google.com/?cid=16064479716723701911
Reno Hot Spring Spas and Billiards
6815 Sierra Center Parkway #100
Reno, NV 89511
☎ 775-851-7727
https://maps.google.com/?cid=921080039542699057