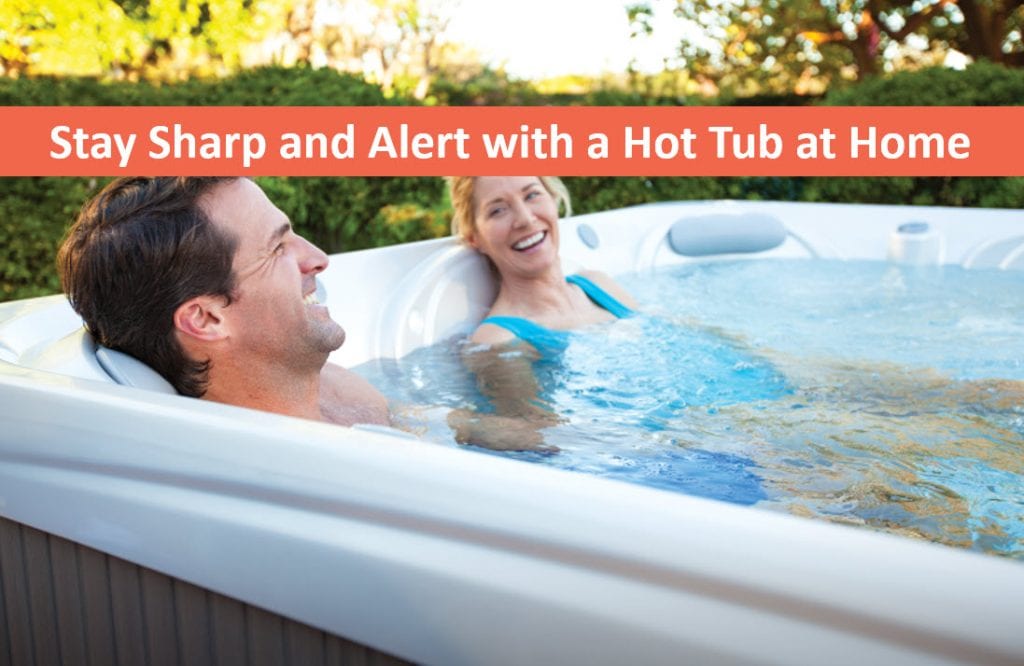 Stay Sharp and Alert with a Spa at Home, Hot Tub Sale Mountain View
Work, family and the daily stressors of life can be devastating on productivity. Luckily, there's a fast, enjoyable way to ease pressure and refocus an active mind—and it's fun too!
With incredible health and wellness benefits built-in, here's how to stay sharp and alert with a hot tub at home.
Anytime Stress Relief
With a hot tub at home, it's easy to de-stress anytime you want. Push troubles aside by giving your body the pampering it needs to restore, regenerate and replenish. Hot tub massage soothes body and mind, invigorating your muscles and restoring balance.
Restore Focus in a Distraction-Free Zone
Sometimes all we need is a quiet place to think. A hot tub at home is the Zen-like space you need to refocus, prioritize and recharge. With zero distraction, soaking the body in warm, massaging water is the path to clear thought, and a smart way to power up from an overactive lifestyle.
Eliminate Pain, Reclaim Attention
Aches and pains make it next to impossible to focus on anything expect finding relief. A hot tub delivers all-natural relief, targeting pain through heat and massage. A more practical way to escape the burden of pain, a soak in the hot tub delivers quick, long lasting relief from the comfort of home.
So Go Ahead, Take a Soak, You Deserve It!
It's fast, fun and relaxing. Not only that, it's good for the body, soothes the mind and can improve your overall health and well-being.
To encourage local residents to check out the benefits of using a hot tub to help improve their overall health and well-being, The Spa and Sauna Company and Hot Spring Spas of Santa Cruz and San Jose are providing free test soaks at all their showrooms. We do recommend, however, that people wanting to schedule their free 30-minute soak call us ahead of time to reserve their spot.
To learn more about the benefits of owning a hot tub, just give us a call at ☎ 408-996-9693 or visit our website at: Hot Tub Sale Mountain View
Hot Spring Spas of San Jose
2627 S. Bascom Ave.
Campbell, CA 95008
☎ 408-996-9693
https://www.google.com/maps?cid=7239402217658860966
https://spaandsauna.com/locations-san-jose/
Hot Tubs San Jose
Hot Spring Spas of Santa Cruz
707 River St.
Santa Cruz, CA 95060
☎ 831-425-7727
https://www.google.com/maps?cid=7323132295424075120
https://spaandsauna.com/locations-santa-cruz/
The Spa and Sauna Co.
9748 So. Virginia St. Ste. C-D
Reno, NV 89511
☎ 775-852-3838
https://maps.google.com/?cid=2463027483589999860
https://spaandsauna.com/locations-south-virginia-st-reno/
The Spa and Sauna Shop
250 E Glendale Ave
Sparks, NV 89431
☎ 775-852-3838
https://maps.google.com/?cid=16064479716723701911
https://spaandsauna.com/locations-glendale-ave-sparks/
Reno Hot Spring Spas and Billiards
6815 Sierra Center Parkway #100
Reno, NV 89511
☎ 775-851-7727
https://maps.google.com/?cid=921080039542699057
https://spaandsauna.com/locations-sierra-center-parkway-reno/