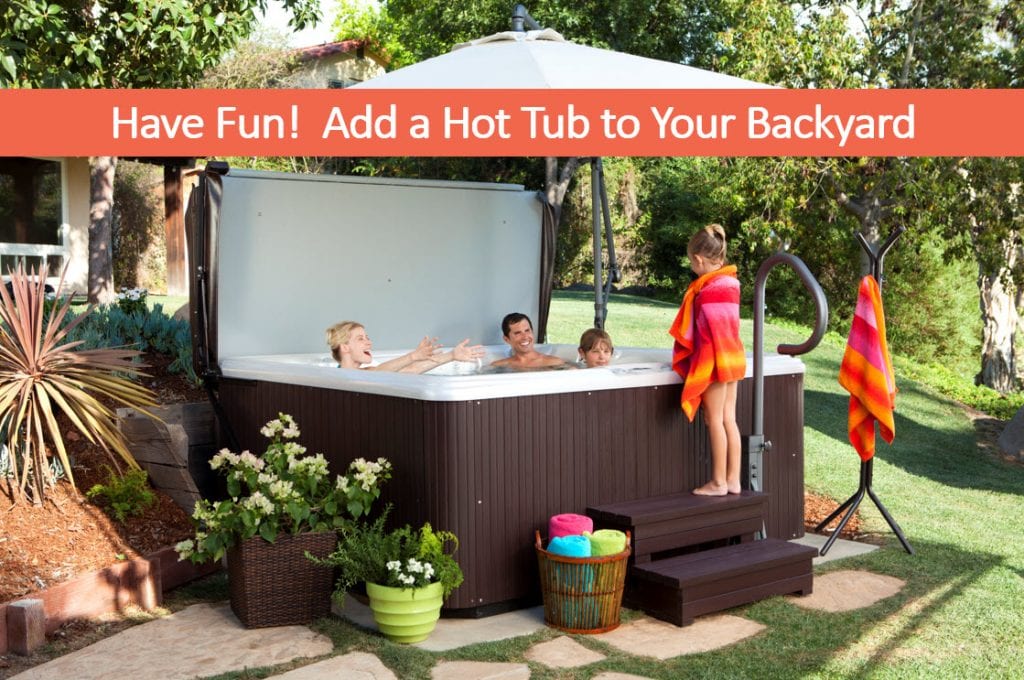 Have Fun! Add a Portable Spa to the Backyard, Hot Tub Sale Reno
Hot tubs can be used in any weather, especially if they're placed under a gazebo or patio roof. A hot tub in the yard creates a personal resort that's ready and waiting for family members.
Here are three more reasons to add a hot tub to the backyard.
Great Family Fun
Hot tubs are one of the few entertainment items that are loved by people of all ages from the youngest family members to the oldest. They also make any home a party spot, and place to be for extended family and friends.
Soothing No-Hassle Stress Relief
Temperature-controlled heat levels allow people to set their hot tubs at the perfect warmth for the type of lounging they want. Set temperature low to soak away time with friends and family, or turn it up to relieve tension and anxiety.
Banish Aches and Pains
The buoyant nature of water takes pressure off of sore, tired muscles and joints. Warm water also provides an excellent atmosphere for exercise. Moving in the water prevents shock and injury to sore or stiff muscles and joints, improving flexibility and toning at the same time.
To encourage local residents to check out the benefits of using a hot tub to help improve their overall health and well-being, The Spa and Sauna Company is providing free test soaks at all their showrooms. We do recommend, however, that people wanting to schedule their free 30-minute soak call us ahead of time to reserve their spot.
To learn more about the benefits of owning a hot tub, just give us a call at 775-852-3838 or visit our website at: https://www.spaandsauna.com.
The Spa and Sauna Co.
9748 So. Virginia St. Ste. C-D
Reno, NV 89511
☎ 775-852-3838
https://maps.google.com/?cid=2463027483589999860
https://spaandsauna.com/locations-south-virginia-st-reno/
The Spa and Sauna Shop
250 E Glendale Ave
Sparks, NV 89431
☎ 775-852-3838
https://maps.google.com/?cid=16064479716723701911
https://spaandsauna.com/locations-glendale-ave-sparks/
Reno Hot Spring Spas and Billiards
6815 Sierra Center Parkway #100
Reno, NV 89511
☎ 775-851-7727
https://maps.google.com/?cid=921080039542699057
https://spaandsauna.com/locations-sierra-center-parkway-reno/