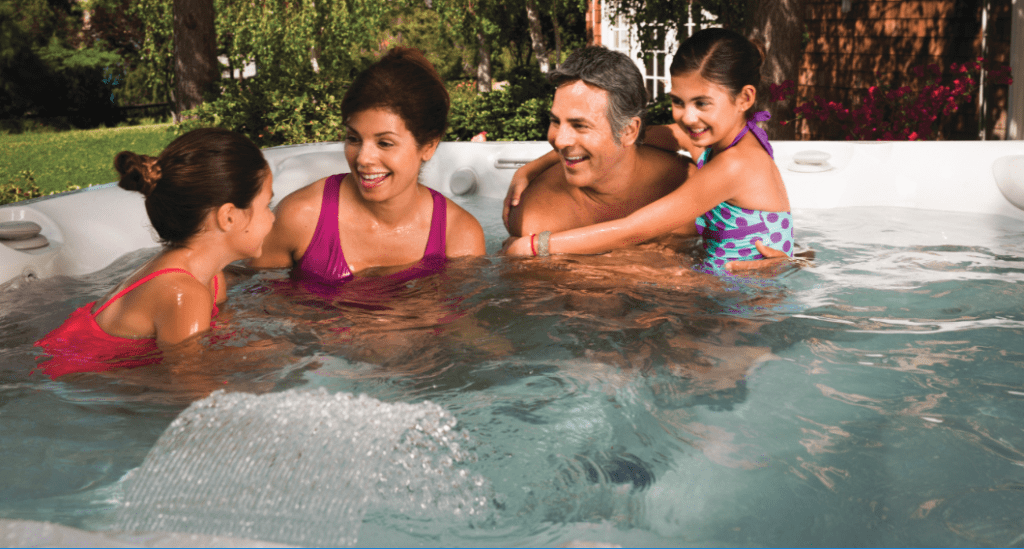 Unexpected Benefits of a Backyard Spa – Hot Tubs, Swim Spas Carson City
For generations, spa enthusiasts have been enjoying the health and wellness benefits from regular hot tub hydrotherapy. However, improved health and well-being is just the beginning, because a hot tub at home can enhance life in many other ways. Here are a few benefits to be gained from a backyard hot tub.
Bring the Family Together
With comfortable seating, personalized massage and exciting entertainment options, a dip in the hot tub is just the activity to bring the family together for relaxation and fun. Grab a favorite movie, or put on some music to create a relaxed, comfortable environment for all ages.
On-Demand Stress and Pain Relief
With a hot tub in the backyard, it's easier than ever to slip a break into each day, busting stress and tension that cause pain and discomfort. Powerful jets target the back, neck and shoulder area, relaxing overworked muscles, relieving tension and promoting a happier, stress-free you.
Improved Home Value
A popular home investment, the right hot tub can transform any backyard into a year round oasis for improved health, entertainment and fun. Plus, with a variety of features, such as waterfalls and multi-colored lighting, a hot tub can easily become the focal point of an extraordinary backyard retreat.
So Go Ahead, Take a Soak, You Deserve It!
It's, fast, fun and relaxing. Not only that, it's good for the body, soothes the mind and can improve your overall health and well-being.
To encourage local residents to check out the benefits of using a hot tub to help improve their overall health and well-being, The Spa and Sauna Company is providing free test soaks at all their showrooms.
We do recommend however that people wanting to schedule their free 30-minute soak call us ahead of time to reserve their spot.
To learn more about the benefits of owning a hot tub, just give us a call at 775-852-3838 or visit our website at: http://www.spaandsauna.com
The Spa and Sauna Co.
9748 So. Virginia St. Ste. C-D
Reno, NV 89511
☎ 775-852-3838
https://maps.google.com/?cid=2463027483589999860
The Spa and Sauna Shop
250 E Glendale Ave
Sparks, NV 89431
☎ 775-852-3838
https://maps.google.com/?cid=16064479716723701911
Reno Hot Spring Spas and Billiards
6815 Sierra Center Parkway #100
Reno, NV 89511
☎ 775-851-7727
https://maps.google.com/?cid=921080039542699057
https://twitter.com/spansaunashop
https://www.facebook.com/SpaAndSaunaShop
http://www.houzz.com/pro/webuser-261914/the-spa-and-sauna-shop