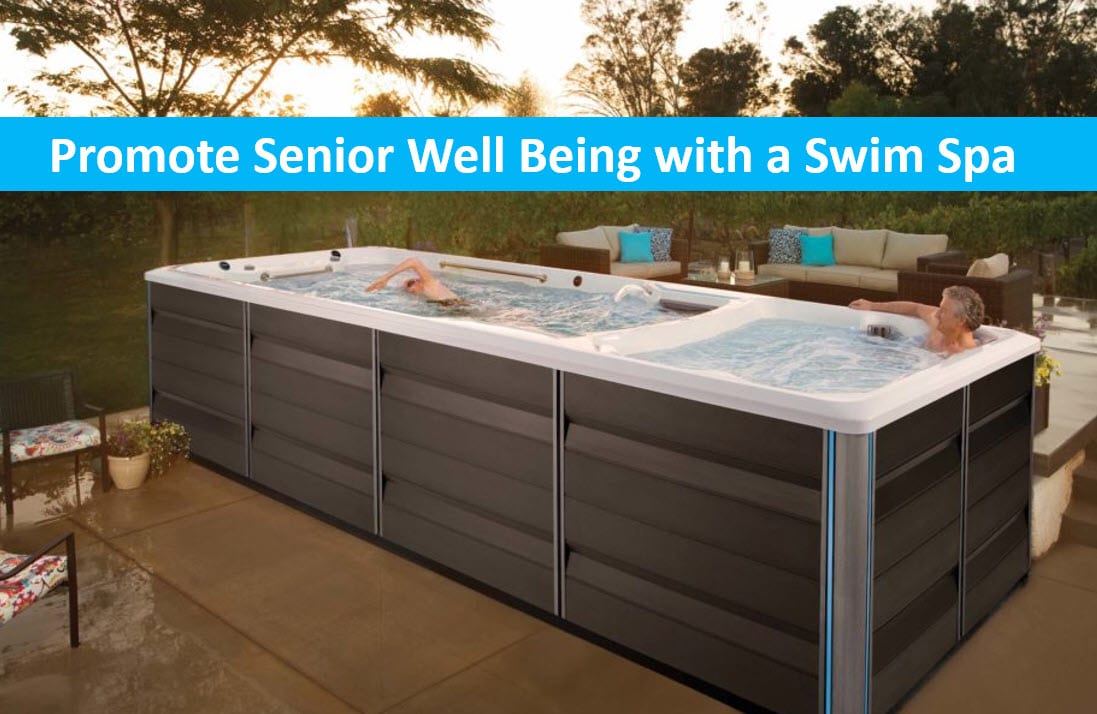 Promote Senior Well Being with a Swim Spa at Home, Lap Pool Sale San Jose, Santa Cruz
More so than any other age group, seniors often deal with chronic conditions that can negatively impact how they feel. When injury or disease interferes with day-to-day life, a swim spa can help.
Here's how to promote senior well-being with a swim spa at home.
Positive Mental Health
Swimming on a regular basis has been shown to improve cardiovascular fitness by boosting heart health. But taking a few laps in the swim spa each day also reduces stress and encourages happiness by increasing endorphin production, a smart way for seniors to build positive mental health.
Fast, at Home Rehabilitation
Why recover somewhere other than home when you can use your very own swim spa? Quality swim spas can be equipped with hot tub features for the best restorative hydrotherapy. Elevated heat soothes and relaxes while massage and buoyancy ease pain encouraging faster, more efficient recovery.
Low Impact Exercise
For seniors with debilitating disease, physical activity of any kind can be painful. But a swim spa at home provides a safe, buoyant environment for movement without discomfort. With smart accessories like underwater treadmills and resistance bands, the swim spa offers safe, full body conditioning with no pain.
So Go Ahead, Take a Swim, You Deserve It!
It's, fast, fun and relaxing. Not only that, it's good for the body, soothes the mind and can improve your overall health and well-being.
To learn more about the benefits of owning a swim spa, just give us a call at ☎ 408-996-9693 or visit our website at: Lap Pool Sale San Jose, Santa Cruz.
The Spa and Sauna Co. – San Jose – Home of Hot Spring Spas
2627 S. Bascom Ave.
Campbell, CA 95008
☎ 408-996-9693
https://www.google.com/maps?cid=7239402217658860966
https://spaandsauna.com/locations-san-jose/
The Spa and Sauna Co. – Santa Cruz – Home of Hot Spring Spas
707 River St.
Santa Cruz, CA 95060
☎ 831-425-7727
https://www.google.com/maps?cid=7323132295424075120
https://spaandsauna.com/locations-santa-cruz/
The Spa and Sauna Co.
9748 So. Virginia St. Ste. C-D
Reno, NV 89511
☎ 775-852-3838
https://maps.google.com/?cid=2463027483589999860
https://spaandsauna.com/locations-south-virginia-st-reno/
The Spa and Sauna Co. – Sparks – Clearance Center
250 E Glendale Ave
Sparks, NV 89431
☎ 775-852-3838
https://maps.google.com/?cid=16064479716723701911
https://spaandsauna.com/locations-glendale-ave-sparks/
The Spa and Sauna Co. – Carson City
3355 S. Carson St.
Carson City, NV 89701
☎ 775-433-0460
https://maps.google.com/?cid=2463027483589999860
https://spaandsauna.com/locations-s-carson-st-carson-city/
Spas by Renee – A Spa and Sauna Co. Brand – Las Vegas
6280 S. Pecos Rd., Ste. 600
Las Vegas, NV 89120
☎ 702-966-0857
https://maps.app.goo.gl/gRisZL5iLoAwvYsx5
https://spaandsauna.com/locations-las-vegas/