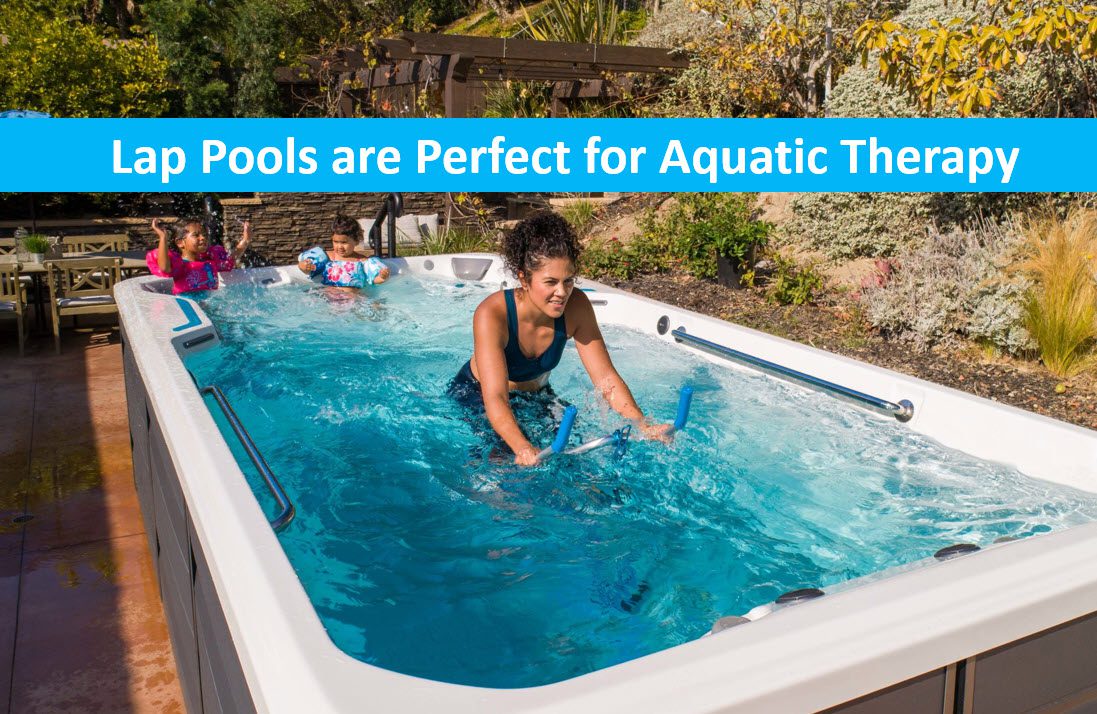 Lap Pools are Perfect for Aquatic Therapy, Swim Spas Palo Alto
Aquatic therapy promotes health and fitness, and is a convenient way to look and feel your best. If chronic pain, injury or stress limits your happiness, water therapy can help. Where do you begin?
Here are three ways to use a swim spa at home for easy aquatic therapy.
The Natural Buoyancy of Water
One of the reasons why it feels good to submerge the body in water is buoyancy. The feeling of weightlessness you get once in water helps relieve joint pain by removing pressure and strain of body weight. With regular use, the swim spa can help restore flexibility and range of motion.
Low Impact Exercise in Water
In addition to traditional lap swimming, modern swim spas can be equipped with a variety of exercise accessories to promote physical fitness. Movement in water relies on the natural resistance of the body, and is a practical way to achieve maximum results in a safe, low impact environment.
Soak for Relaxation and Stress Relief
The best swim spas provide two amazing experiences in one: lap swimming, and a hot tub spa. When aches and pains disrupt happiness, soaking in the hot tub portion of the swim spa can rejuvenate and regenerate a tired, stiff body.
So Go Ahead, Take a Swim, You Deserve It!
It's, fast, fun and relaxing. Not only that, it's good for the body, soothes the mind and can improve your overall health and well-being.
To encourage local residents to check out the benefits of using a swim spa to help improve their overall health and well-being, The Spa and Sauna Company is providing free swim spa test soaks at all their showrooms. We do recommend, however, that people wanting to schedule their free 30-minute test call us ahead of time to reserve their spot.
To learn more about the benefits of owning a swim spa, just give us a call at ☎ 408-996-9693 or visit our website at: Swim Spas Palo Alto.
The Spa and Sauna Co. – San Jose – Home of Hot Spring Spas
2627 S. Bascom Ave.
Campbell, CA 95008
☎ 408-996-9693
https://www.google.com/maps?cid=7239402217658860966
https://spaandsauna.com/locations-san-jose/
The Spa and Sauna Co. – Santa Cruz – Home of Hot Spring Spas
707 River St.
Santa Cruz, CA 95060
☎ 831-425-7727
https://www.google.com/maps?cid=7323132295424075120
https://spaandsauna.com/locations-santa-cruz/
The Spa and Sauna Co.
9748 So. Virginia St. Ste. C-D
Reno, NV 89511
☎ 775-852-3838
https://maps.google.com/?cid=2463027483589999860
https://spaandsauna.com/locations-south-virginia-st-reno/
The Spa and Sauna Co. – Sparks – Clearance Center
250 E Glendale Ave
Sparks, NV 89431
☎ 775-852-3838
https://maps.google.com/?cid=16064479716723701911
https://spaandsauna.com/locations-glendale-ave-sparks/
The Spa and Sauna Co. – Carson City
3355 S. Carson St.
Carson City, NV 89701
☎ 775-433-0460
https://maps.google.com/?cid=2463027483589999860
https://spaandsauna.com/locations-s-carson-st-carson-city/
Spas by Renee – A Spa and Sauna Co. Brand – Las Vegas
6280 S. Pecos Rd., Ste. 600
Las Vegas, NV 89120
☎ 702-966-0857
https://maps.app.goo.gl/gRisZL5iLoAwvYsx5
https://spaandsauna.com/locations-las-vegas/