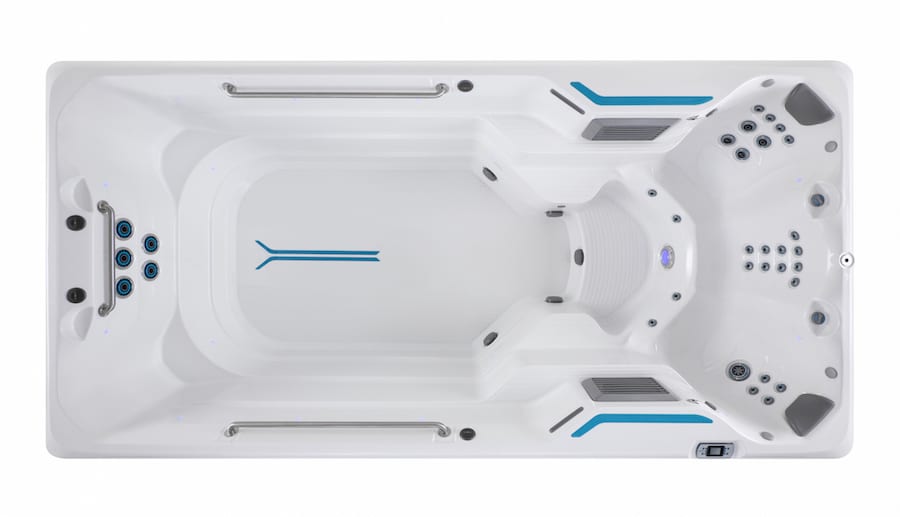 A Swim Spa for Year Round Health, Swim Spas Sale Sparks
Considering your options with swimming from home? Before investing in the usual swimming pool, learn how a swim spa can deliver the same benefits for less. Here are three ways to enjoy a swim spa for year round health.
Low Impact Exercise—At Any Age
Cardiovascular exercise, like swimming, strengthens the heart while toning all areas of the body at once. More effective than the gym and more fun too, even amateur swimmers benefit, with underwater treadmills.
All In One Solution
Modern swim spas are equipped with a complete hot tub at one end and a never-ending current at the other for an all in one swim-spa solution. Exercise and enjoy an invigorating workout – swim, use a treadmill, even lift weights. Then, slip into warm, massaging relief.
Fight Stress, Banish Insomnia and Boost Mood
Using a swim spa on a regular basis is a great way to ease tension and stress, sleep better, and even boost mood. Swimming releases harmful toxins from the body, for instant rejuvenation and well being.
So Go Ahead, Take a Swim, You Deserve It!
It's, fast, fun and relaxing. Not only that, it's good for the body, soothes the mind and can improve your overall health and well-being.
To encourage local residents to check out the benefits of using a swim spa to help improve their overall health and well-being, The Spa and Sauna Company is providing free swim spa test soaks at all their showrooms.
We do recommend however that people wanting to schedule their free 30-minute test call us ahead of time to reserve their spot.
To learn more about the benefits of owning a swim spa, just give us a call at ☎ 775-852-3838 or visit our website at: https://www.spaandsauna.com
The Spa and Sauna Co.
9748 So. Virginia St. Ste. C-D
Reno, NV 89511
☎ 775-852-3838
https://maps.google.com/?cid=2463027483589999860
The Spa and Sauna Shop
250 E Glendale Ave
Sparks, NV 89431
☎ 775-852-3838
https://maps.google.com/?cid=16064479716723701911
Reno Hot Spring Spas and Billiards
6815 Sierra Center Parkway #100
Reno, NV 89511
☎ 775-851-7727
https://maps.google.com/?cid=921080039542699057
https://twitter.com/spansaunashop
https://www.facebook.com/SpaAndSaunaShop
http://www.houzz.com/pro/webuser-261914/the-spa-and-sauna-shop
Categories/Tags
Swim Spas Sale Sparks, Swim Spas Sparks
SEO Description
Swim Spas Sale Sparks | All Lap Pools on Sale Now | A Swim Spa for Year Round Health ☎ 775-852-3838 | Local Swim Spa Dealer Selling Endless Pools Swim Spas