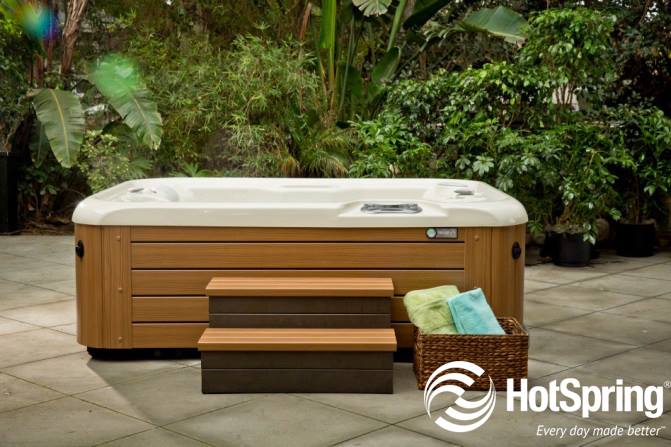 Boost Cardiovascular Health in a Portable Spa, Hot Tub Sale Lake Tahoe
Warm, massaging water instantly soothes aches and pains, reduces stress and sets the stage for a great night's sleep. But it's also an easy way to promote a strong cardiovascular system. Here are three ways relaxing in a hot tub can boost heart health.
Improved Blood Flow
Slip into a heated hot tub and blood vessels begin to enlarge in response to elevated heat. Enlarged vessels make it easier for blood to travel throughout the body. And cardiac volume increases with immersion in hot water—something that does not occur on land.
Lower Blood Pressure
A heated spa causes core body temperature to rise. Sustained, elevated temperature triggers the body's cooling process. As vessels dilate, blood gets diverted to the skin, increasing heart rate and pulse in response to a drop in blood pressure.
Efficient Muscle Recovery
Blood is the body's transport system, and a boost in circulation means additional nutrients and oxygen get delivered to the body. Efficient circulation helps you exercise longer and harder, while excess nutrients promote faster recovery.
So Go Ahead, Take a Soak, You Deserve It!
It's, fast, fun and relaxing. Not only that, it's good for the body, soothes the mind and can improve your overall health and well-being.
To encourage local residents to check out the benefits of using a hot tub to help improve their overall health and well-being, The Spa and Sauna Company is providing free test soaks at all their showrooms.
We do recommend, however, that people wanting to schedule their free 30-minute soak call us ahead of time to reserve their spot.
To learn more about the benefits of owning a hot tub, just give us a call at 775-852-3838 or visit our website at: https://www.spaandsauna.com.
The Spa and Sauna Co.
9748 So. Virginia St. Ste. C-D
Reno, NV 89511
☎ 775-852-3838
https://maps.google.com/?cid=2463027483589999860
https://spaandsauna.com/locations-south-virginia-st-reno/
The Spa and Sauna Shop
250 E Glendale Ave
Sparks, NV 89431
☎ 775-852-3838
https://maps.google.com/?cid=16064479716723701911
https://spaandsauna.com/locations-glendale-ave-sparks/
Reno Hot Spring Spas and Billiards
6815 Sierra Center Parkway #100
Reno, NV 89511
☎ 775-851-7727
https://maps.google.com/?cid=921080039542699057
https://spaandsauna.com/locations-sierra-center-parkway-reno/