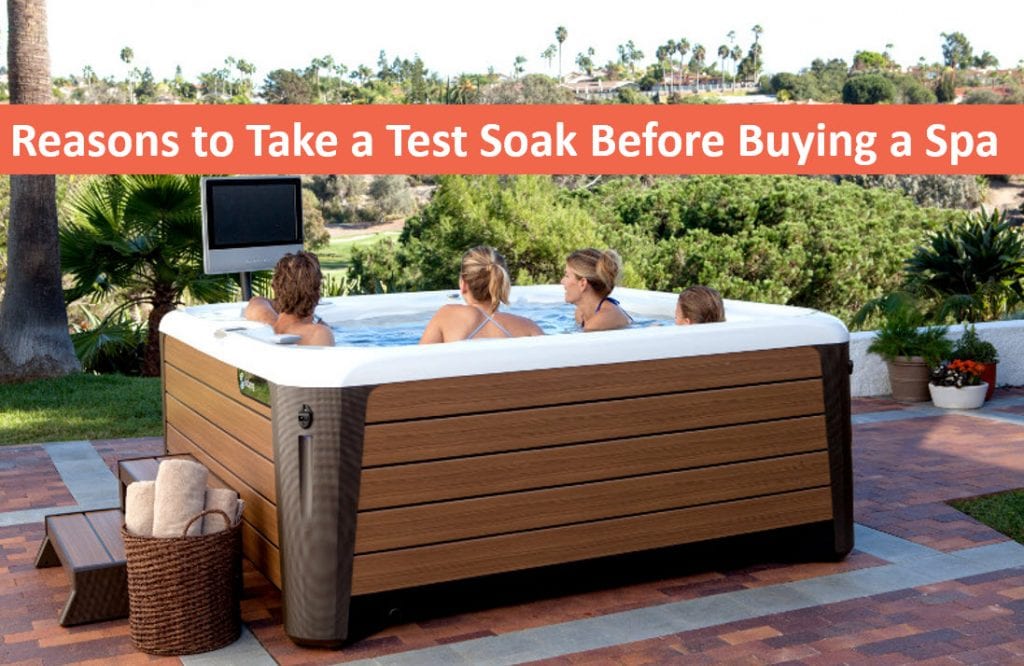 Why Take a Test Soak Before Buying a Spa? Santa Cruz Hot Tubs, Portable Spas
So, you're looking to buy a new hot tub spa, congratulations! But before investing in the most exciting hot tub on the showroom floor, take a few minutes to learn what you like, or don't like.
Here are three reasons why taking a "test soak" before investing is a smart move.
Find the Most Comfortable Seating
Just looking at each model on the showroom floor will never give you the details you need about comfort when you're in the water. Come try out a few styIes to see if you like bench seating, a lounger or something completely different.
Evaluate Access to Controls
Avoid buying the wrong hot tub by testing how easy it is to access controls when in the tub. See if you can easily reach your entertainment features, if you can turn massaging jets on and off, and if you like the jet configurations. Many people buy a fantastic hot tub only to get it home and realize the controls are not user friendly, once submerged in water.
Listen to How the Hot Tub Sounds When In Use
Filtration systems can sometimes be noisy. Trying out the tub you're interested in when it's actually running will allow you to mimic a real life soak—noise and all. Be sure to ask your dealer about energy efficient and low noise filters for a relaxed, quiet hot tub experience.
So Go Ahead, Take a Soak, You Deserve It!
It's fast, fun and relaxing. Not only that, it's good for the body, soothes the mind and can improve your overall health and well-being.
To encourage local residents to check out the benefits of using a hot tub to help improve their overall health and well-being, The Spa and Sauna Company is providing free test soaks at all their showrooms. We do recommend, however, that people wanting to schedule their free 30-minute soak call us ahead of time to reserve their spot.
To learn more about the benefits of owning a hot tub, just give us a call at 408-996-9693 or visit our website at: https://spaandsauna.com/hot-tubs-santa-cruz-swim-spas-sale-ca/.
Hot Spring Spas of San Jose
2627 S. Bascom Ave.
Campbell, CA 95008
☎ 408-996-9693
https://www.google.com/maps?cid=7239402217658860966
https://spaandsauna.com/locations-san-jose/
Hot Tubs San Jose
Hot Spring Spas of Santa Cruz
707 River St.
Santa Cruz, CA 95060
☎ 831-425-7727
https://www.google.com/maps?cid=7323132295424075120
https://spaandsauna.com/locations-santa-cruz/
The Spa and Sauna Co.
9748 So. Virginia St. Ste. C-D
Reno, NV 89511
☎ 775-852-3838
https://maps.google.com/?cid=2463027483589999860
https://spaandsauna.com/locations-south-virginia-st-reno/
The Spa and Sauna Shop
250 E Glendale Ave
Sparks, NV 89431
☎ 775-852-3838
https://maps.google.com/?cid=16064479716723701911
https://spaandsauna.com/locations-glendale-ave-sparks/
Reno Hot Spring Spas and Billiards
6815 Sierra Center Parkway #100
Reno, NV 89511
☎ 775-851-7727
https://maps.google.com/?cid=921080039542699057
https://spaandsauna.com/locations-sierra-center-parkway-reno/