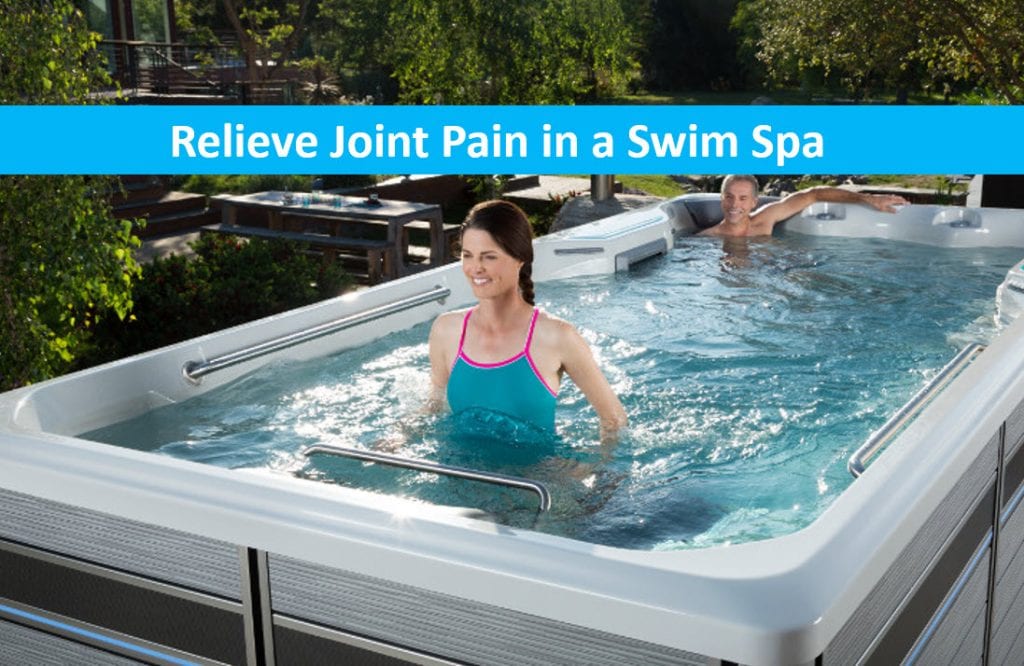 Relieve Joint Pain in a Sunnyvale Swim Spa, San Jose Lap Pools Dealer
As we age, it's not uncommon to experience pain and discomfort in the joints. Weak, damaged joints from arthritis or overuse often lead to limited mobility. What if there was any easy way to improve joint health—a safe, alternative to medication? Luckily, there is.
Here are three ways to restore joint health using a swim spa at home.
Increase Joint Flexibility and Range of Motion
As joints become inflexible and stiff, movement of any kind can be painful. Stretching helps, but it isn't always pain free. Stretching in water is an easy and effective; water is buoyant, meaning it supports your body weight, cushioning joints for easy movement. A few minutes of aquatic stretching every day can elevate joint fitness, gradually increasing range of motion and joint flexibility.
Ease Painful Joints with Hydromassage
Nothing feels better on sore, achy joints than massage. With a swim spa, it's easy to reap the benefits of hydromassage right from home! The best swim spas have two distinct uses: continuous lap swimming on one side, and hydrotherapy with warm water massage on the other.
Strengthen Weak Joints
With a swim spa at home, it's easy to create an aquatic exercise routine that's safe and fun. Adding resistance bands, paddles or a row bar is a simple way to build joint strength gradually. Place a treadmill in your swim spa for underwater cardio, and easy joint conditioning. With time, and as joints become stronger, adding lap swimming to an exercise routine can help promote a healthy heart too!
So Go Ahead, Take a Swim, You Deserve It!
It's, fast, fun and relaxing. Not only that, it's good for the body, soothes the mind and can improve your overall health and well-being.
To encourage local residents to check out the benefits of using a swim spa to help improve their overall health and well-being, The Spa and Sauna Company is providing free swim spa test soaks at all their showrooms. We do recommend, however, that people wanting to schedule their free 30-minute test call us ahead of time to reserve their spot.
To learn more about the benefits of owning a swim spa, just give us a call at ☎ 408-996-9693 or visit our website at: Swim Spas Sunnyvale.
Hot Spring Spas of San Jose
2627 S. Bascom Ave.
Campbell, CA 95008
☎ 408-996-9693
https://www.google.com/maps?cid=7239402217658860966
https://spaandsauna.com/locations-san-jose/
Swim Spas San Jose
Hot Spring Spas of Santa Cruz
707 River St.
Santa Cruz, CA 95060
☎ 831-425-7727
https://www.google.com/maps?cid=7323132295424075120
https://spaandsauna.com/locations-santa-cruz/
The Spa and Sauna Co.
9748 So. Virginia St. Ste. C-D
Reno, NV 89511
☎ 775-852-3838
https://maps.google.com/?cid=2463027483589999860
https://spaandsauna.com/locations-south-virginia-st-reno/
The Spa and Sauna Shop
250 E Glendale Ave
Sparks, NV 89431
☎ 775-852-3838
https://maps.google.com/?cid=16064479716723701911
https://spaandsauna.com/locations-glendale-ave-sparks/
Reno Hot Spring Spas and Billiards
6815 Sierra Center Parkway #100
Reno, NV 89511
☎ 775-851-7727
https://maps.google.com/?cid=921080039542699057
https://spaandsauna.com/locations-sierra-center-parkway-reno/
Swim Spas Sale Sunnyvale, Endless Pools Swim Spas Sunnyvale, Swim Spa Dealer Sunnyvale, Swim Spa Prices Sunnyvale, Lap Pool Prices Sunnyvale, Swim Spas Sunnyvale, Exercise Spas Sunnyvale