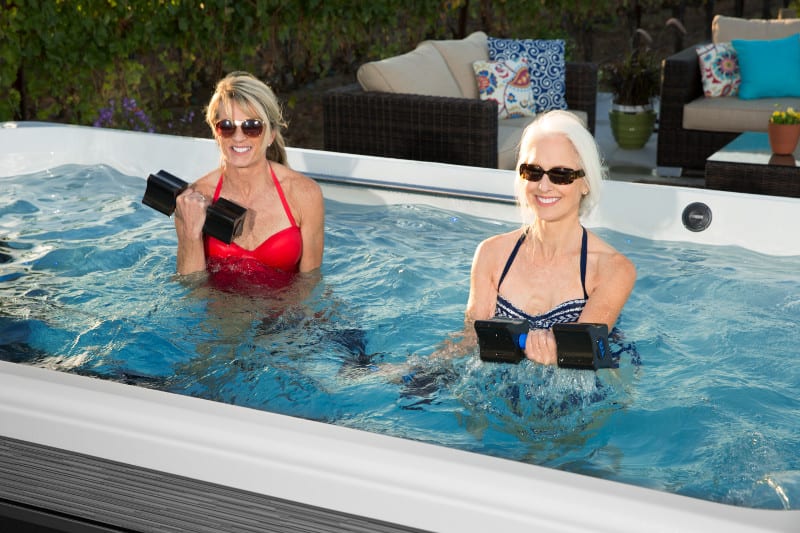 Is a Swim Spa the Right Choice? Swim Spa Dealer Sparks
Is a Swim Spa the Right Choice, Swim Spa Dealer Sparks
Description
If you're interested in fitness, fun and entertainment, but having a difficult time deciding between a hot tub and a swimming pool, why not get both?
Here are three reasons why an exciting swim spa is the right choice for anyone looking for the best of both worlds in one incredible piece of equipment.
Easy to Maintain and Use
The world of water testing and balancing is a reality, but a swim spa is much smaller than a traditional swimming pool, and requires far less attention to use and operate. With user-friendly controls, lower energy use and big time fun, the modern swim spa is a one home luxury item that's in great demand.
Health Benefits
If it's tough to get to the gym, a swim spa at home can help. A fun alternative to boring cardio, using a swim spa for aquatic exercise a few days a week is a convenient and exciting way to tone and strengthen muscles while burning fat.
Hydrotherapy from the Comfort of Home
A family friendly alternative to the in-ground pool, the best swim spas come equipped with a never-ending current and massaging jets – a spa and swimming pool in one! With anytime access, you can relax, exercise and enjoy personalized massage on-demand.
So Go Ahead, Take a Swim, You Deserve It!
It's, fast, fun and relaxing. Not only that, it's good for the body, soothes the mind and can improve your overall health and well-being.
To encourage local residents to check out the benefits of using a swim spa to help improve their overall health and well-being, The Spa and Sauna Company is providing free swim spa test soaks at all their showrooms. We do recommend, however, that people wanting to schedule their free 30-minute test call us ahead of time to reserve their spot.
To learn more about the benefits of owning a swim spa, just give us a call at 775-852-3838 or visit our website at: https://www.spaandsauna.com
The Spa and Sauna Co.
9748 So. Virginia St. Ste. C-D
Reno, NV 89511
☎ 775-852-3838
https://maps.google.com/?cid=2463027483589999860
The Spa and Sauna Shop
250 E Glendale Ave
Sparks, NV 89431
☎ 775-852-3838
https://maps.google.com/?cid=16064479716723701911
Reno Hot Spring Spas and Billiards
6815 Sierra Center Parkway #100
Reno, NV 89511
☎ 775-851-7727
https://maps.google.com/?cid=921080039542699057