Fill out the form to access our FREE Enhanced Hot Tub Buyer's Guide.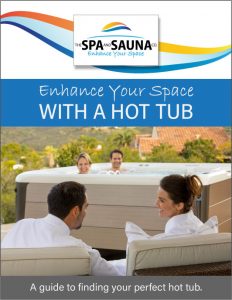 Enhance Your Space With a Hot Tub: 7 Steps To Hot Tub Buying Success.
This essential guide covers critical questions to ask before you buy and guides you toward your perfect hot tub. This guide is a great place to start for anyone considering purchasing a hot tub. Simply fill out the form and you will be sent the guide immediately.
Read some reviews from our Happy Customers:
"If anyone is thinking about installing a hot tub, let me recommend The Spa and Sauna Company. Their Reno showroom is located at 9748, South Virginia St. and the Sales Manager there is Kevin Thompson. When we were debating a couple of months back where and how to install a hot tub on our patio, Kevin came out to look at the property, discuss alternatives and make recommendations on how we might proceed. The job would ultimately require some hardscaping, some electrical work, and, of course, delivery and installation of the hot tub, itself. Kevin was great. He recommended contractors to handle the various preparatory elements of the project (all of whom were excellent, by the way), helped co-ordinate their activities and came back out to the property once the installation was complete to give us the "getting started" tutorial. The courtesy follow up a week or so later to ensure everything was as expected was also a nice touch. We were very happy with the service from beginning to end." – Robin S.
Got our hot tub delivered this morning. The crew did a great job. They were quick and efficient. They described everything, asked opinions and got it placed exactly where we wanted. Great experience starting with Kevin in Sales, Stephanie setting up delivery and the delivery team, Anthony, P.G., Nick, Chris and Mike. Can't wait to use the hot tub! – Jessica S.
Everyone from sales to delivery were amazing. Service is great and the delivery guys go the extra mile to make everything fit. Thank you all!! – Paula R.