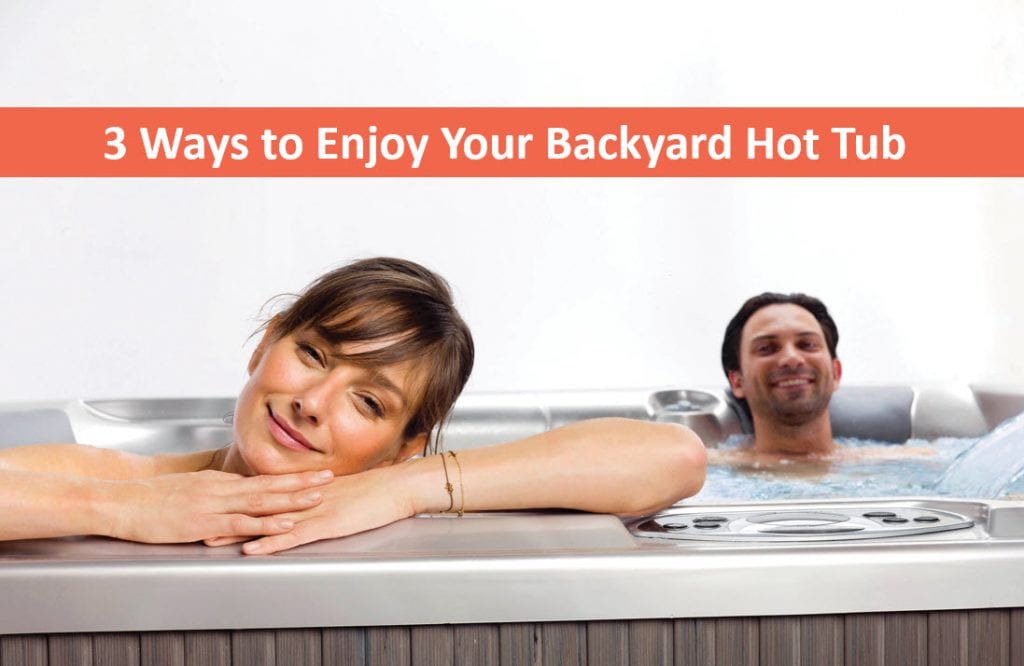 3 Ways to Enjoy a Reno Backyard Hot Tub or Portable Spa
One of the great benefits of a hot tub is that people can regulate both temperature and the strength of the jets to create the ultimate style of enjoyment they desire. Hot tubs offer homeowners many ways to create the perfect setting for different styles of enjoyment.
Here are 3 ways to get the most out of a backyard hot tub.
Relax with Family and Friends
Relaxation is one of the first things people may think about when they consider adding a hot tub to the yard or a patio. People automatically gather around the swirling water and it makes a great party feature as well as a place to simply unwind and spend time with loved ones.
Relieve Aches and Pains
Hot tubs are hard to beat when it comes to relieving all types of aches and pains. The heat and massage help bring blood flow to the area to help the body heal. Sore muscles, arthritis pain or general aches usually are relieved better by a strong, pulsating massage, whereas sprains or other injuries may feel better with a gentle, easy massage power from the hot tub's jets.
Rest and Destress from a Long Day
Having a hot tub available right in the backyard makes it simple and easy to simply rest and relieve the stress of a long, hard day. In addition, soaking for just a few minutes every evening before bed helps people get to sleep faster and sleep better, so they are prepared for the day ahead. Set the temperature to a medium range with a soothing, mid-level jet power and let the day's worries and stress just melt away each night.
So Go Ahead, Take a Soak, You Deserve It!
It's fast, fun and relaxing. Not only that, it's good for the body, soothes the mind and can improve your overall health and well-being.
To encourage local residents to check out the benefits of using a hot tub to help improve their overall health and well-being, The Spa and Sauna Company is providing free test soaks at all their showrooms. We do recommend, however, that people wanting to schedule their free 30-minute soak call us ahead of time to reserve their spot.
To learn more about the benefits of owning a hot tub, just give us a call at ☎ 775-852-3838 or visit our website at: https://spaandsauna.com/locations-south-virginia-st-reno/.
The Spa and Sauna Co.
9748 So. Virginia St. Ste. C-D
Reno, NV 89511
☎ 775-852-3838
https://maps.google.com/?cid=2463027483589999860
https://spaandsauna.com/locations-south-virginia-st-reno/
The Spa and Sauna Shop
250 E Glendale Ave
Sparks, NV 89431
☎ 775-852-3838
https://maps.google.com/?cid=16064479716723701911
https://spaandsauna.com/locations-glendale-ave-sparks/
Reno Hot Spring Spas and Billiards
6815 Sierra Center Parkway #100
Reno, NV 89511
☎ 775-851-7727
https://maps.google.com/?cid=921080039542699057
https://spaandsauna.com/locations-sierra-center-parkway-reno/
Hot Spring Spas of San Jose
2627 S. Bascom Ave.
Campbell, CA 95008
☎ 408-996-9693
https://www.google.com/maps?cid=7239402217658860966
https://spaandsauna.com/locations-san-jose/
Hot Tubs San Jose
Hot Spring Spas of Santa Cruz
707 River St.
Santa Cruz, CA 95060
☎ 831-425-7727
https://www.google.com/maps?cid=7323132295424075120
https://spaandsauna.com/locations-santa-cruz/