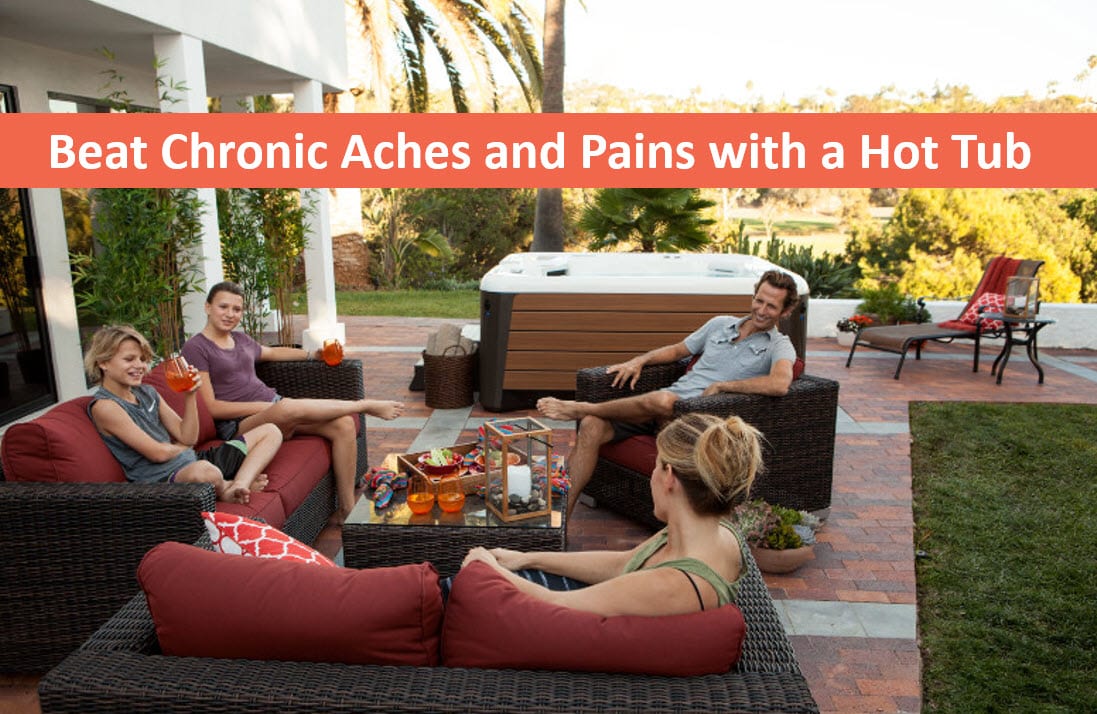 Beat Aches and Pains with a Backyard Spa, Hot Tubs Cupertino, San Jose
For relieving joint pain, backaches, arthritis and other chronic discomfort, soaking in the family hot tub works. An all-natural alternative to medication, lounging in hot, massaging water targets pain on contact, providing fast, long lasting relief.
Here's how to beat chronic aches and pains with a hot tub.
Soak Away Elevated Stress
Chronic pain is a physical and mental burden that often leads to elevated stress. Luckily, tension pain in the neck, shoulders and lower back can be controlled by hydromassage. With regular use, the hot tub can help keep elevated stress at bay, decreasing every day tension pain.
Prepare for Deep, Restful Sleep
Getting a great night's sleep is challenging when chronic pain makes it tough to rest. Tossing, turning and waking throughout the night can be frustrating. With a hot tub at home, it's easy to prepare for a relaxing, restful night's sleep without having to rely on sleep aids.
Exercise without Pain
Physical activity can be an effective way to relieve chronic pain, but traditional exercise can be difficult. A hot tub filled with water supports body weight for easy, cushioned movement. A few minutes of stretching, walking in place or strength training can relieve stiffness, increase flexibility and improve range of motion over time without strain or discomfort.
So Go Ahead, Take a Soak, You Deserve It!
It's fast, fun and relaxing. Not only that, it's good for the body, soothes the mind and can improve your overall health and well-being.
To encourage local residents to check out the benefits of using a hot tub to help improve their overall health and well-being, Reno, Santa Cruz, and San Jose are providing free test soaks at all their showrooms. We do recommend, however, that people wanting to schedule their free 30-minute soak call us ahead of time to reserve their spot.
To learn more about the benefits of owning a hot tub, just give us a call at ☎ 408-996-9693 or visit our website at: Hot Tubs Cupertino
The Spa and Sauna Co. – San Jose – Home of Hot Spring Spas
2627 S. Bascom Ave.
Campbell, CA 95008
☎ 408-996-9693
https://www.google.com/maps?cid=7239402217658860966
https://spaandsauna.com/locations-san-jose/
The Spa and Sauna Co. – Santa Cruz – Home of Hot Spring Spas
707 River St.
Santa Cruz, CA 95060
☎ 831-425-7727
https://www.google.com/maps?cid=7323132295424075120
https://spaandsauna.com/locations-santa-cruz/
The Spa and Sauna Co.
9748 So. Virginia St. Ste. C-D
Reno, NV 89511
☎ 775-852-3838
https://maps.google.com/?cid=2463027483589999860
https://spaandsauna.com/locations-south-virginia-st-reno/
The Spa and Sauna Co. – Sparks – Clearance Center
250 E Glendale Ave
Sparks, NV 89431
☎ 775-852-3838
https://maps.google.com/?cid=16064479716723701911
https://spaandsauna.com/locations-glendale-ave-sparks/
The Spa and Sauna Co. – Carson City
3355 S. Carson St.
Carson City, NV 89701
☎ 775-433-0460
https://maps.google.com/?cid=2463027483589999860
https://spaandsauna.com/locations-s-carson-st-carson-city/
Spas by Renee – A Spa and Sauna Co. Brand – Las Vegas
6280 S. Pecos Rd., Ste. 600
Las Vegas, NV 89120
☎ 702-966-0857
https://maps.app.goo.gl/gRisZL5iLoAwvYsx5
https://spaandsauna.com/locations-las-vegas/