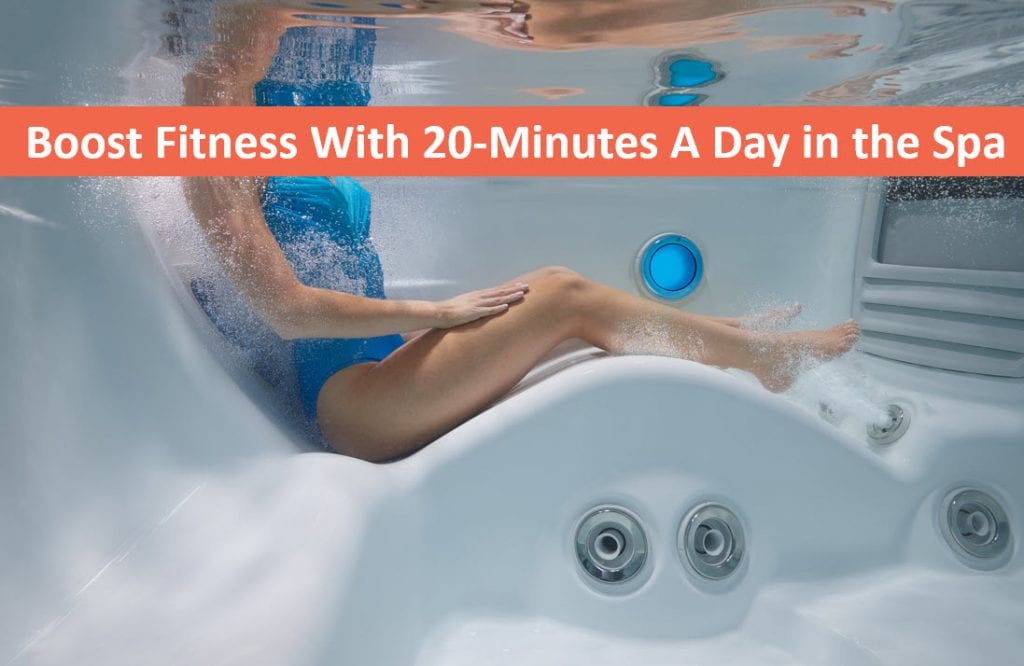 Boost Fitness With 20 Minutes A Day in Santa Clara Hot Tub or Portable Spa
These days, maximizing health is a top priority for most people. We watch what we eat, exercise regularly and try our best to make good wellness decisions. A strong, healthy body and mind promote longevity, and that comes from physical and mental fitness.
Here's how to spend 20 minutes a day in the hot tub to boost fitness.
Take a Dip to Relieve Stress
Controlling stress is an important priority, but something most of us fail to do well. Stress plays a pivotal role in physical health, and left untreated, can trigger diabetes, heart problems, even depression. The hot tub is a smart, practical way to keep high levels of stress in check, easing tension and anxiety with high-powered jet massage. A few minutes relaxing each day can improve productivity, improve your mood and leave you refreshed and revitalized.
Ease Pain, Reduce Stiffness for Better Workouts
Aches and pains impact everyone, whether it's a serious condition or just simple overuse. Finding relief isn't always easy, and many of us turn to over the counter medication for help. A hot tub offers a safe, simple alternative. Soaking in heated water before working out warms the muscles in preparation for exercise, and soothes stiff, overworked muscles after exercise. With regular use, flexibility, endurance and range of motion increase, making your workout easier and more productive.
Jumpstart Cardiovascular Health
Regular physical activity is a key part of ensuring a healthy cardiovascular system. But soaking in the elevated heat of a hot tub can help too. It has to do with heat, and how core body temperature increases as you soak. The body responds by increasing heart rate and blood circulation – the same physiological changes that occur during light cardiovascular exercise. A relaxing soak feels great, but is also a smart, heart healthy activity too!
So Go Ahead, Take a Soak, You Deserve It!
It's fast, fun and relaxing. Not only that, it's good for the body, soothes the mind and can improve your overall health and well-being.
To encourage local residents to check out the benefits of using a hot tub to help improve their overall health and well-being, The Spa and Sauna Company is providing free test soaks at all their showrooms. We do recommend, however, that people wanting to schedule their free 30-minute soak call us ahead of time to reserve their spot.
To learn more about the benefits of owning a hot tub, just give us a call at 408-996-9693 or visit our website at: https://spaandsauna.com/hot-tubs-santa-clara-swim-spas-sale/.
Hot Spring Spas of San Jose
2627 S. Bascom Ave.
Campbell, CA 95008
☎ 408-996-9693
https://www.google.com/maps?cid=7239402217658860966
https://spaandsauna.com/locations-san-jose/
Hot Tubs San Jose
Hot Spring Spas of Santa Cruz
707 River St.
Santa Cruz, CA 95060
☎ 831-425-7727
https://www.google.com/maps?cid=7323132295424075120
https://spaandsauna.com/locations-santa-cruz/
The Spa and Sauna Co.
9748 So. Virginia St. Ste. C-D
Reno, NV 89511
☎ 775-852-3838
https://maps.google.com/?cid=2463027483589999860
https://spaandsauna.com/locations-south-virginia-st-reno/
The Spa and Sauna Shop
250 E Glendale Ave
Sparks, NV 89431
☎ 775-852-3838
https://maps.google.com/?cid=16064479716723701911
https://spaandsauna.com/locations-glendale-ave-sparks/
Reno Hot Spring Spas and Billiards
6815 Sierra Center Parkway #100
Reno, NV 89511
☎ 775-851-7727
https://maps.google.com/?cid=921080039542699057
https://spaandsauna.com/locations-sierra-center-parkway-reno/