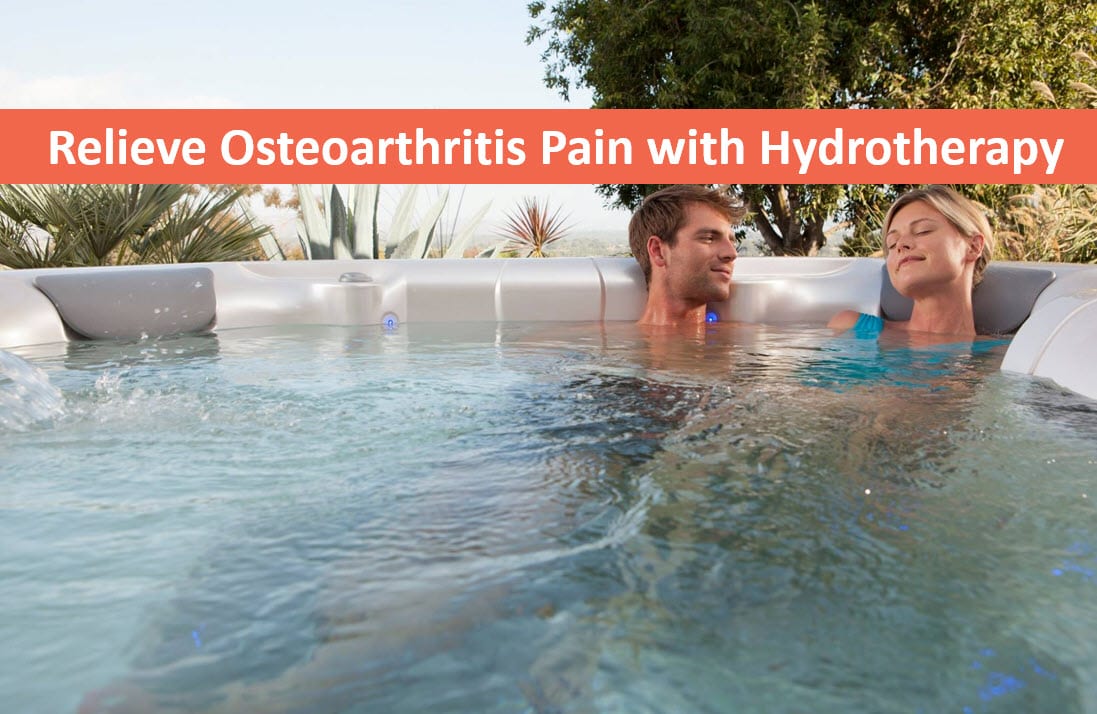 Relieve Osteoarthritis Pain with a Hot Water Hydrotherapy, Hot Tubs Watsonville
When Osteoarthritis creates pain and limited mobility, getting relief is priority one. While not much can be done to reverse the impact of joint cartilage wearing away, it is possible to decrease discomfort. When safe, all natural relief sounds like a smart strategy, here's how to use the hot tub to ease Osteoarthritis pain.
Easy Weight Maintenance
Did you know that arthritis pain can be decreased by dropping a few extra pounds? Excess weight puts unnecessary pressure on the joints, increasing pain. Maintain a healthy body weight and symptoms may decrease significantly. A hot tub can help in two ways: by providing a buoyant, comfortable space to exercise without further damaging joints, and helping to ensure a healthy cardiovascular system by regular soaking in elevated heat.
Relieve Stress with Personal Massage
High stress can contribute to arthritis pain, increasing stiffness and reducing mobility. Relieving tension and anxiety is a smart way to rid the body of harmful stress that creates discomfort. A long, relaxed soak in the hot tub targets tension and anxiety before it has the chance to impact the rest of the body. Powerful jets push streams of water at the neck, shoulders and back for maximum relaxation and decreased stress.
Ease the Mind, the Body will Follow
With Osteoarthritis, relaxing without pain is rare. Luckily, soaking in a hot tub is the one activity where pain and discomfort can actually decrease the more you use it. Long-term relief results from the combination of buoyancy, massage and heat—even for just a few minutes. A quick soak relieves tension in the joints, reduces inflammation and increases mobility long after you get out of the tub. With at home access, a hot tub offers convenient relief on your schedule.
So Go Ahead, Take a Soak, You Deserve It!
It's fast, fun and relaxing. Not only that, it's good for the body, soothes the mind and can improve your overall health and well-being.
To encourage local residents to check out the benefits of using a hot tub to help improve their overall health and well-being, Reno, Santa Cruz, and San Jose are providing free test soaks at all their showrooms. We do recommend, however, that people wanting to schedule their free 30-minute soak call us ahead of time to reserve their spot.
To learn more about the benefits of owning a hot tub, just give us a call at ☎ 831-425-7727 or visit our website at: Hot Tubs Watsonville.
The Spa and Sauna Co. – San Jose – Home of Hot Spring Spas
2627 S. Bascom Ave.
Campbell, CA 95008
☎ 408-996-9693
https://www.google.com/maps?cid=7239402217658860966
https://spaandsauna.com/locations-san-jose/
The Spa and Sauna Co. – Santa Cruz – Home of Hot Spring Spas
707 River St.
Santa Cruz, CA 95060
☎ 831-425-7727
https://www.google.com/maps?cid=7323132295424075120
https://spaandsauna.com/locations-santa-cruz/
The Spa and Sauna Co.
9748 So. Virginia St. Ste. C-D
Reno, NV 89511
☎ 775-852-3838
https://maps.google.com/?cid=2463027483589999860
https://spaandsauna.com/locations-south-virginia-st-reno/
The Spa and Sauna Co. – Sparks – Clearance Center
250 E Glendale Ave
Sparks, NV 89431
☎ 775-852-3838
https://maps.google.com/?cid=16064479716723701911
https://spaandsauna.com/locations-glendale-ave-sparks/
The Spa and Sauna Co. – Carson City
3355 S. Carson St.
Carson City, NV 89701
☎ 775-433-0460
https://maps.google.com/?cid=2463027483589999860
https://spaandsauna.com/locations-s-carson-st-carson-city/
Spas by Renee – A Spa and Sauna Co. Brand – Las Vegas
6280 S. Pecos Rd., Ste. 600
Las Vegas, NV 89120
☎ 702-966-0857
https://maps.app.goo.gl/gRisZL5iLoAwvYsx5
https://spaandsauna.com/locations-las-vegas/