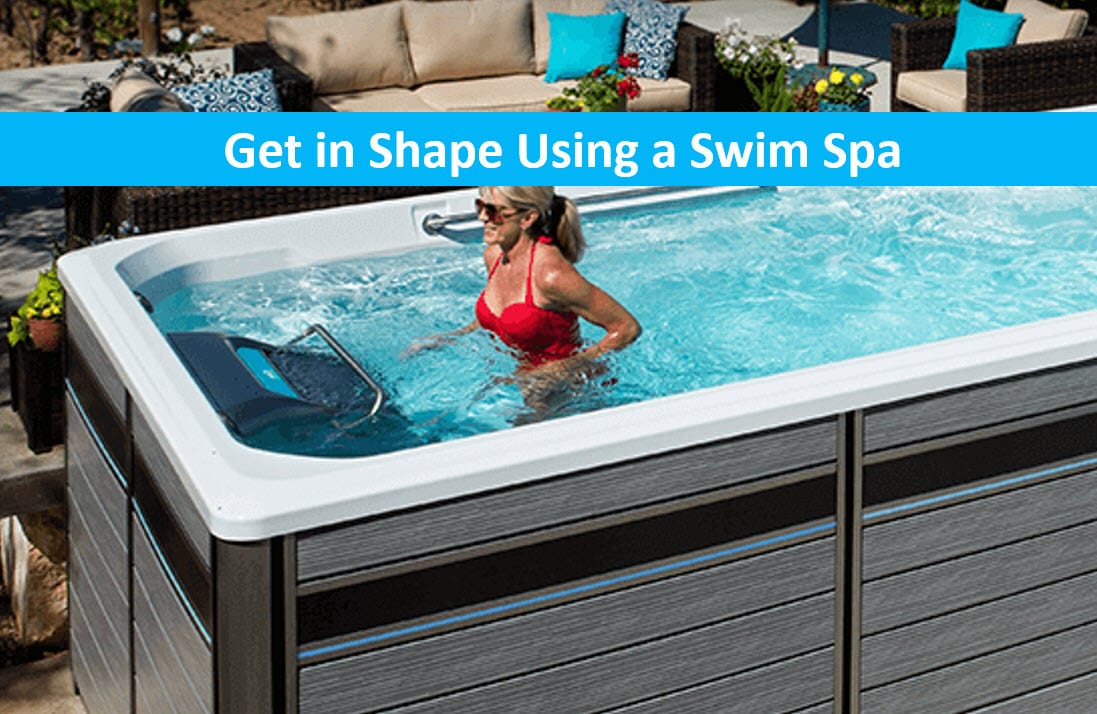 Get in Shape in a Lap Pool, Swim Spa Dealer Cupertino
Getting in shape isn't the easiest of challenges. For more than a few of us, getting rid of those extra pounds that seem to creep on year after year is a never-ending battle. When the gym or fitness center isn't an option, and limited time makes regular training difficult, why not turn to the swim spa? Aquatic fitness is a smart, practical way to reach your fitness goals.
Here are three ways to burn fat and condition the body in minutes a day using a swim spa.
Cardiovascular Fitness
Many health professionals recommend cardio as part of an exercise routine. Why not make it fun using a swim spa! Of course, lap swimming is the most obvious way to start, but the swim spa offers much more. Add an underwater treadmill to your swim spa and create a fun, low impact walking or running routine. Water is buoyant, meaning it supports the body. But it also provides natural resistance to keep it challenged too. Swimming burns fat from your entire body at once—a super effective plan for fast, long lasting weight loss.
Aquatic Strength Training
After a strong cardio workout, it's the perfect time to add strength training to your swim spa routine. There are tons of great accessories available to turn your swim spa into an aquatic fitness center. Add resistance bands or a rowing bar for easy muscle sculpting in water. Or, create a customized routine using water weights.
Don't Forget to Relax!
The ability to successfully get in shape, depends on how hard you work the body. But few people realize that getting enough rest and relaxation matters too. Swim spas can be equipped with spa-like features, giving you the hydrotherapy you need to calm and soothe a tired body. Powerful jets push hot, massaging water all over the body, relaxing, recharging and restoring tired muscles and joints.
So Go Ahead, Take a Swim, You Deserve It!
It's, fast, fun and relaxing. Not only that, it's good for the body, soothes the mind and can improve your overall health and well-being.
To encourage local residents to check out the benefits of using a swim spa to help improve their overall health and well-being, The Spa and Sauna Company is providing free swim spa test soaks at all their showrooms. We do recommend, however, that people wanting to schedule their free 30-minute test call us ahead of time to reserve their spot.
To learn more about the benefits of owning a swim spa, just give us a call at ☎ 408-996-9693 or visit our website at:
Swim Spa Dealer Cupertino.
The Spa and Sauna Co. – San Jose – Home of Hot Spring Spas
2627 S. Bascom Ave.
Campbell, CA 95008
☎ 408-996-9693
https://www.google.com/maps?cid=7239402217658860966
https://spaandsauna.com/locations-san-jose/
The Spa and Sauna Co. – Santa Cruz – Home of Hot Spring Spas
707 River St.
Santa Cruz, CA 95060
☎ 831-425-7727
https://www.google.com/maps?cid=7323132295424075120
https://spaandsauna.com/locations-santa-cruz/
The Spa and Sauna Co.
9748 So. Virginia St. Ste. C-D
Reno, NV 89511
☎ 775-852-3838
https://maps.google.com/?cid=2463027483589999860
https://spaandsauna.com/locations-south-virginia-st-reno/
The Spa and Sauna Co. – Sparks – Clearance Center
250 E Glendale Ave
Sparks, NV 89431
☎ 775-852-3838
https://maps.google.com/?cid=16064479716723701911
https://spaandsauna.com/locations-glendale-ave-sparks/
The Spa and Sauna Co. – Carson City
3355 S. Carson St.
Carson City, NV 89701
☎ 775-433-0460
https://maps.google.com/?cid=2463027483589999860
https://spaandsauna.com/locations-s-carson-st-carson-city/
Spas by Renee – A Spa and Sauna Co. Brand – Las Vegas
6280 S. Pecos Rd., Ste. 600
Las Vegas, NV 89120
☎ 702-966-0857
https://maps.app.goo.gl/gRisZL5iLoAwvYsx5
https://spaandsauna.com/locations-las-vegas/