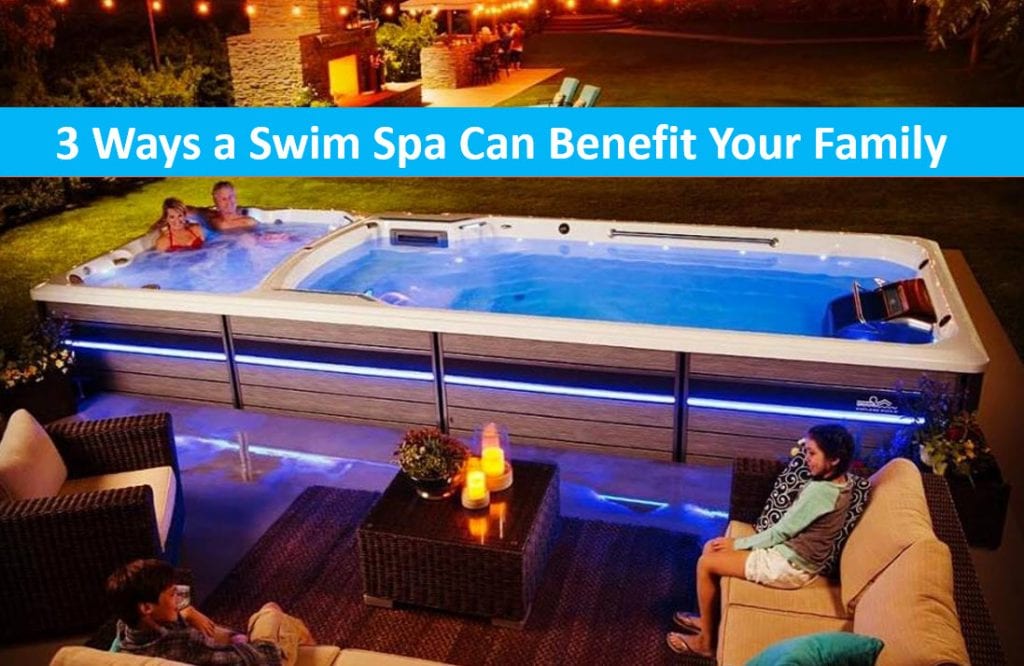 Swim Spa Dealer San Jose Shares 3 Ways a Swim Spa Can Benefit Your Family
More and more families today are exploring ways to have fun from home, while getting healthy. For some, swimming is the perfect solution. While a gorgeous in ground swimming pool is a fantastic choice, homeowners on a budget or those who live in confined spaces are typically out of luck. Finally, there's a practical alternative to a costly in ground swimming pool at home.
With exciting features that appeal to mom, dad and the kids, here's how a swim spa can benefit your family.
Swim, Play and Relax in One Machine
The kids love to splash in the water on warm days, but mom loves relaxing hydrotherapy that comes from lounging in a swirling spa. Good news! The modern swim spa can deliver both! An adjustable current offers swimming and wave play at one end, while powerful jets push streams of massaging water around in the other end. The best models even have dual temperature settings for a cool swim and a hot, relaxing experience, all from one incredible machine.
Aquatic Exercise for Overall Health
While the gym and traditional fitness centers offer a wide range of amenities to help you stay fit and trim, a swim spa packs the same benefits in one convenient, easy to use at home gym. Water is naturally buoyant, meaning strength building exercises that you do in the water deliver an extra punch from natural resistance. And, with water to support and cushion the body, exercise of any sort is safer and easier on the joints. Build muscle, shape and tone the legs and arms, and strengthen your cardiovascular system too with a few minutes a day in the swim spa.
Family Time Made Easy
The typical swim spa can be placed indoors or out, giving your family year round access to fun and entertainment. Grab some inner tubes and turn the adjustable current up high for an exciting time in the waves, turn it down low for younger children just starting out or play some fun water games together. Relax with a teen in the hot tub side of your swim spa and let customized massage create the perfect environment to share stories, laugh and catch up.
So Go Ahead, Take a Swim, You Deserve It!
It's, fast, fun and relaxing. Not only that, it's good for the body, soothes the mind and can improve your overall health and well-being.
To encourage local residents to check out the benefits of using a swim spa to help improve their overall health and well-being, The Spa and Sauna Company is providing free swim spa test soaks at all their showrooms. We do recommend, however, that people wanting to schedule their free 30-minute test call us ahead of time to reserve their spot.
To learn more about the benefits of owning a swim spa, just give us a call at ☎ 408-996-9693 or visit our website at: https://www.spaandsauna.com/endless-pools-fitness-systems.
Hot Spring Spas of San Jose
2627 S. Bascom Ave.
Campbell, CA 95008
☎ 408-996-9693
https://www.google.com/maps?cid=7239402217658860966
https://spaandsauna.com/locations-san-jose/
Swim Spas San Jose
Hot Spring Spas of Santa Cruz
707 River St.
Santa Cruz, CA 95060
☎ 831-425-7727
https://www.google.com/maps?cid=7323132295424075120
https://spaandsauna.com/locations-santa-cruz/
The Spa and Sauna Co.
9748 So. Virginia St. Ste. C-D
Reno, NV 89511
☎ 775-852-3838
https://maps.google.com/?cid=2463027483589999860
https://spaandsauna.com/locations-south-virginia-st-reno/
The Spa and Sauna Shop
250 E Glendale Ave
Sparks, NV 89431
☎ 775-852-3838
https://maps.google.com/?cid=16064479716723701911
https://spaandsauna.com/locations-glendale-ave-sparks/
Reno Hot Spring Spas and Billiards
6815 Sierra Center Parkway #100
Reno, NV 89511
☎ 775-851-7727
https://maps.google.com/?cid=921080039542699057
https://spaandsauna.com/locations-sierra-center-parkway-reno/