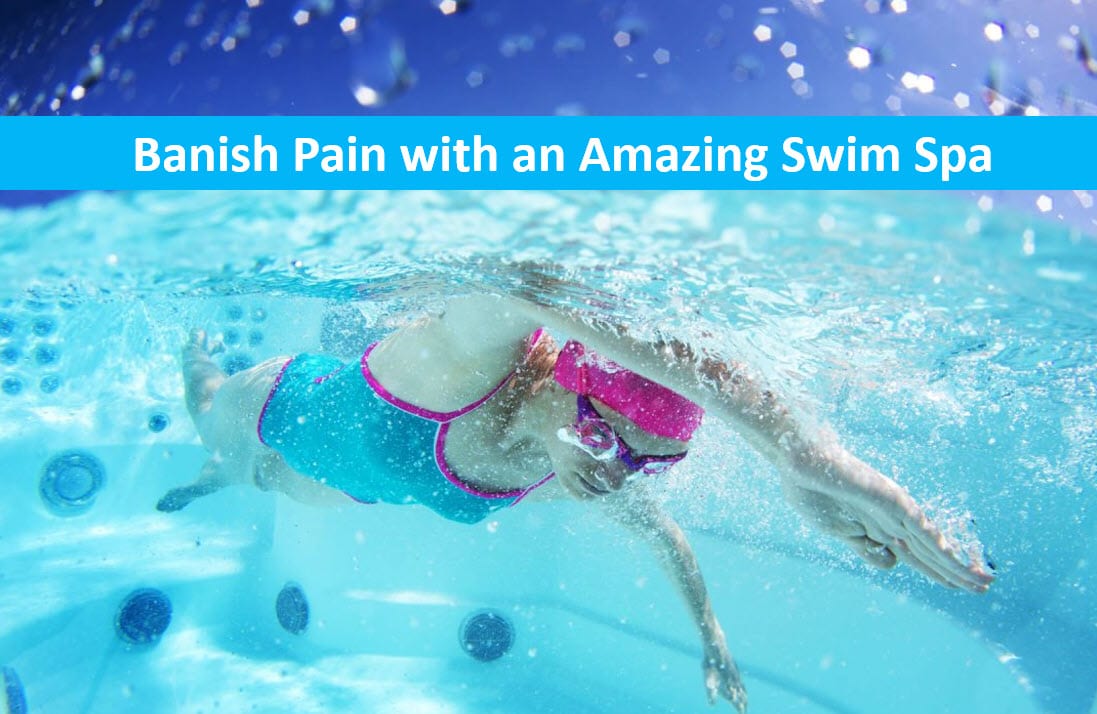 Banish Pain with an Amazing Lap Pool, Swim Spa Dealer Watsonville
Muscle and joint pain impact millions of people worldwide. While some of us rely on prescription medication for relief, a few others have found more natural alternatives. If taking drugs isn't working and you're looking for a new way to combat aches and pains, here's something exciting: the swim spa can help.
From arthritis relief to soothing everyday aches and discomfort, here's how to banish pain with an amazing swim spa.
Relieve Joint Stress with Buoyancy
When standing on your feet all day leaves you aching from head to toe, slipping into water is instantly soothing. It has to do with buoyancy, and the sensation of floating that you experience when submerging the body in water. The swim spa cushions the joints, providing a protective layer that you can't replicate on land. A few minutes of swimming, or even soaking in the swim spa is all you need to help damaged joints rejuvenate, decreasing pain and staving off inflammation.
Work Aquatic Exercise into a Daily Routine
Physical activity with chronic pain hurts, making regular exercise next to impossible. Luckily, movement in water is easier, with less impact placed on sore or injured muscles and joints. With adjustable options, it's easy to turn the current in your swim spa down low when you need to take it easy, and turn it up when you're ready for a challenge. By building exercise into each day, stiff, sore limbs become more flexible, decreasing pain and increasing range of motion.
Soothe Away Pain with Hot Tub Hydrotherapy
Swim spa enthusiasts know something many people don't: they have a hot tub and a swimming pool in one machine! Quality swim spa models offer the feature of having heat and hydrotherapy jets on one side of the swim spa and a customized swim current on the other. With the best of both worlds, you can choose to work out, swim or relax achy, stiff muscles and joints complements of heated massage.
So Go Ahead, Take a Swim, You Deserve It!
It's, fast, fun and relaxing. Not only that, it's good for the body, soothes the mind and can improve your overall health and well-being.
To encourage local residents to check out the benefits of using a swim spa to help improve their overall health and well-being, The Spa and Sauna Company is providing free swim spa test soaks at all their showrooms. We do recommend, however, that people wanting to schedule their free 30-minute test call us ahead of time to reserve their spot.
To learn more about the benefits of owning a swim spa, just give us a call at ☎ 831-425-7727 or visit our website at: Swim Spa Dealer Watsonville.
The Spa and Sauna Co. – San Jose – Home of Hot Spring Spas
2627 S. Bascom Ave.
Campbell, CA 95008
☎ 408-996-9693
https://www.google.com/maps?cid=7239402217658860966
https://spaandsauna.com/locations-san-jose/
The Spa and Sauna Co. – Santa Cruz – Home of Hot Spring Spas
707 River St.
Santa Cruz, CA 95060
☎ 831-425-7727
https://www.google.com/maps?cid=7323132295424075120
https://spaandsauna.com/locations-santa-cruz/
The Spa and Sauna Co.
9748 So. Virginia St. Ste. C-D
Reno, NV 89511
☎ 775-852-3838
https://maps.google.com/?cid=2463027483589999860
https://spaandsauna.com/locations-south-virginia-st-reno/
The Spa and Sauna Co. – Sparks – Clearance Center
250 E Glendale Ave
Sparks, NV 89431
☎ 775-852-3838
https://maps.google.com/?cid=16064479716723701911
https://spaandsauna.com/locations-glendale-ave-sparks/
The Spa and Sauna Co. – Carson City
3355 S. Carson St.
Carson City, NV 89701
☎ 775-433-0460
https://maps.google.com/?cid=2463027483589999860
https://spaandsauna.com/locations-s-carson-st-carson-city/
Spas by Renee – A Spa and Sauna Co. Brand – Las Vegas
6280 S. Pecos Rd., Ste. 600
Las Vegas, NV 89120
☎ 702-966-0857
https://maps.app.goo.gl/gRisZL5iLoAwvYsx5
https://spaandsauna.com/locations-las-vegas/