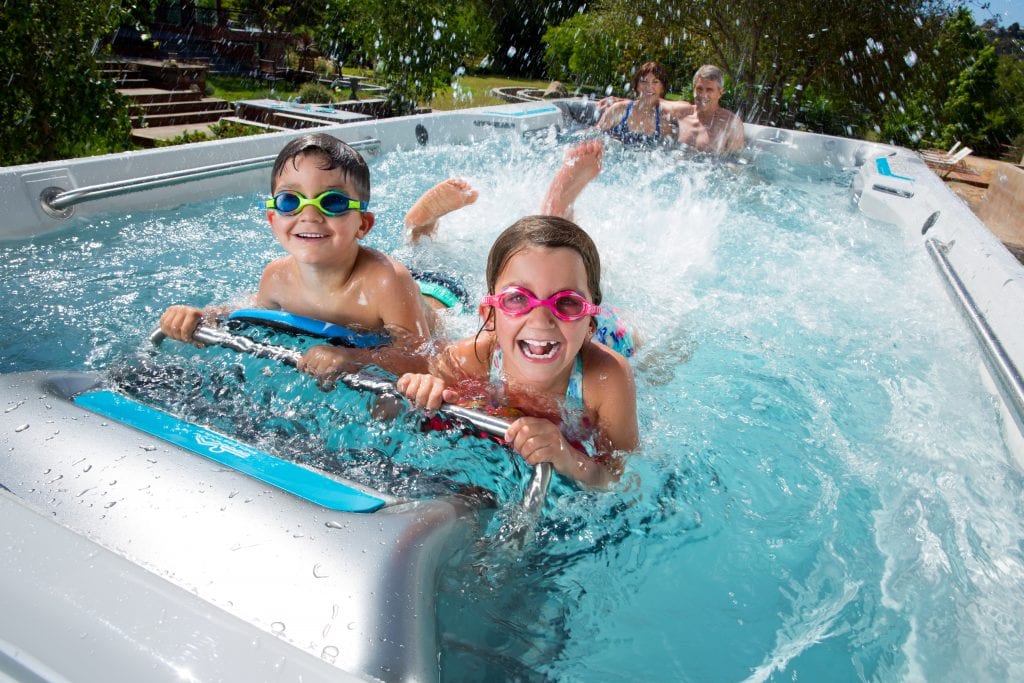 Using an Exercise Spa, Lap Pool for Weight Loss, Swim Spa Sale Reno
While swimming and aquatic exercise is a safe, fast way to lose weight, it's not always convenient to get to the gym, and few of us have time or space to maintain a large swimming pool at home. Luckily, there is an answer.
Here are three reasons why an exciting swim spa is the right choice for anyone looking for the best of both worlds in one incredible piece of equipment.
Swim Year Round
A swim spa offers year round, convenient use. Modern swim spas are much smaller than traditional pools and can be placed indoors, on a patio or enclosed sunroom. Even in blustery cold weather—snow, rain or sleet—an exciting swim spa at home delivers with temperature controlled water and never ending current.
Pain Free Movement
Swim spa water creates buoyancy, and body weight decreases by as much as 90 percent when submerged. Water supports and cushions joints for easy, pain free movement. A swim spa is the ideal environment to exercise in and benefit from the natural resistance of water, without pain or inconvenience.
Create a Personalized Workout at any Fitness Level
With adjustable current, everyone at every fitness level can enjoy a personalized swim. For younger people or those in good shape, turn up the current for a faster, more difficult swim. For seniors, children or those who can't swim well, dial down the current. With the perfect speed for everyone, it's easy to create your own personalized workout.
So Go Ahead, Take a Swim, You Deserve It!
It's, fast, fun and relaxing. Not only that, it's good for the body, soothes the mind and can improve your overall health and well-being.
To encourage local residents to check out the benefits of using a swim spa to help improve their overall health and well-being, The Spa and Sauna Company is providing free swim spa test soaks at all their showrooms. We do recommend, however, that people wanting to schedule their free 30-minute test call us ahead of time to reserve their spot.
To learn more about the benefits of owning a swim spa, just give us a call at 775-852-3838 or visit our website at: https://spaandsauna.com.