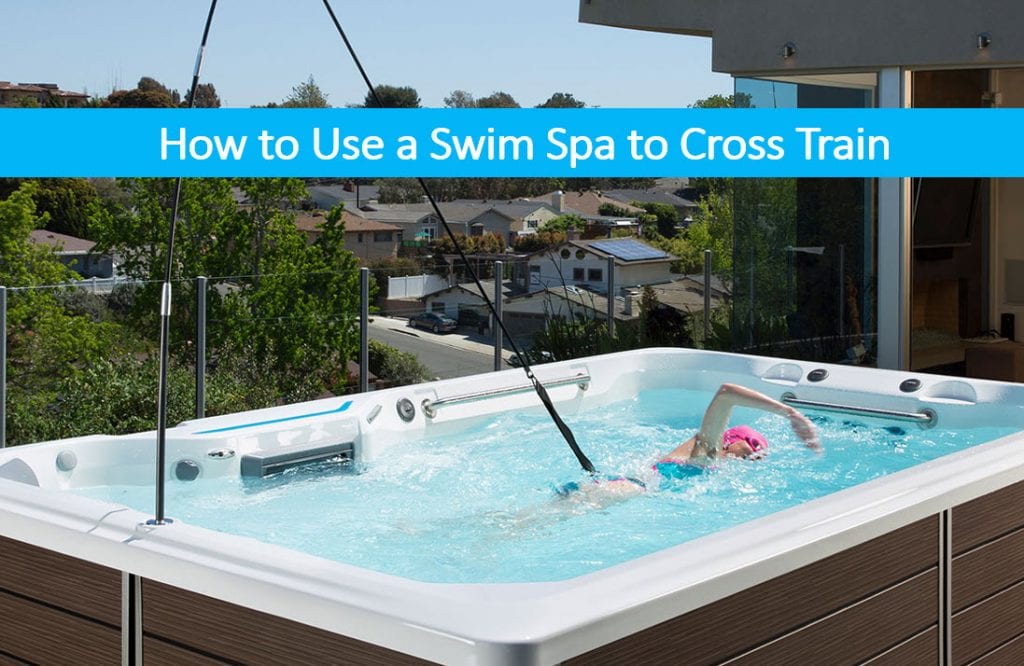 How to Use the Exercise Spa and Lap Pool to Cross Train – Swim Spas San Jose
Athletes have been maximizing performance by cross training for generations. Engaging the body in two or more different types of physical activities forces the muscles to work differently, and is a proven way to move beyond the famous "plateau".
A swim spa is a terrific piece of equipment and a sound investment for anyone hoping to take athletic performance to the next level.
Here are three amazingly fun cross training ideas to try with a swim spa at home.
Resistance Bands for Shaping and Toning
Lifting weights is always one of the best activities for improving athletic performance. But in water, the benefits are even greater. Water is naturally buoyant, but it also has a certain amount of natural resistance too. Adding resistance bands to both ends of your swim spa gives you the extra push you need to see incredible results fast.
Low Impact Running
Did you know that you can use a treadmill in your swim spa? An even safer alternative to running on land, treadmill walking in water is easier on the joints, more convenient than visiting the gym and super fun. Plus, with mobility or joint issues, using a treadmill in water is a safe, effective way to continue a cardiovascular regimen after injury or during rehabilitation.
Continuous Lap Swimming
Swimming is easily the best activity for cross training. It's a safe, extremely effective way to shape and tone every muscle in the body—including those that rarely get attention, like the back and shoulder muscles. With a swim spa at home, it's easier ah ever to customize the perfect current, adjusting as you gain speed. With regular use, the swim spa can help you keep weight gain in check while building strong, solid muscles.
So Go Ahead, Take a Swim, You Deserve It!
It's, fast, fun and relaxing. Not only that, it's good for the body, soothes the mind and can improve your overall health and well-being.
To encourage local residents to check out the benefits of using a swim spa to help improve their overall health and well-being, The Spa and Sauna Company is providing free swim spa test soaks at all their showrooms. We do recommend, however, that people wanting to schedule their free 30-minute test call us ahead of time to reserve their spot.
To learn more about the benefits of owning a swim spa, just give us a call at ☎ 408-996-9693 or visit our website at: https://www.spaandsauna.com/endless-pools-fitness-systems.
Hot Spring Spas of San Jose
2627 S. Bascom Ave.
Campbell, CA 95008
☎ 408-996-9693
https://www.google.com/maps?cid=7239402217658860966
https://spaandsauna.com/locations-san-jose/
Swim Spas San Jose
Hot Spring Spas of Santa Cruz
707 River St.
Santa Cruz, CA 95060
☎ 831-425-7727
https://www.google.com/maps?cid=7323132295424075120
https://spaandsauna.com/locations-santa-cruz/
The Spa and Sauna Co.
9748 So. Virginia St. Ste. C-D
Reno, NV 89511
☎ 775-852-3838
https://maps.google.com/?cid=2463027483589999860
https://spaandsauna.com/locations-south-virginia-st-reno/
The Spa and Sauna Shop
250 E Glendale Ave
Sparks, NV 89431
☎ 775-852-3838
https://maps.google.com/?cid=16064479716723701911
https://spaandsauna.com/locations-glendale-ave-sparks/
Reno Hot Spring Spas and Billiards
6815 Sierra Center Parkway #100
Reno, NV 89511
☎ 775-851-7727
https://maps.google.com/?cid=921080039542699057
https://spaandsauna.com/locations-sierra-center-parkway-reno/
Swim Spas San Jose, Lap Pools San Jose, Exercise Spas San Jose