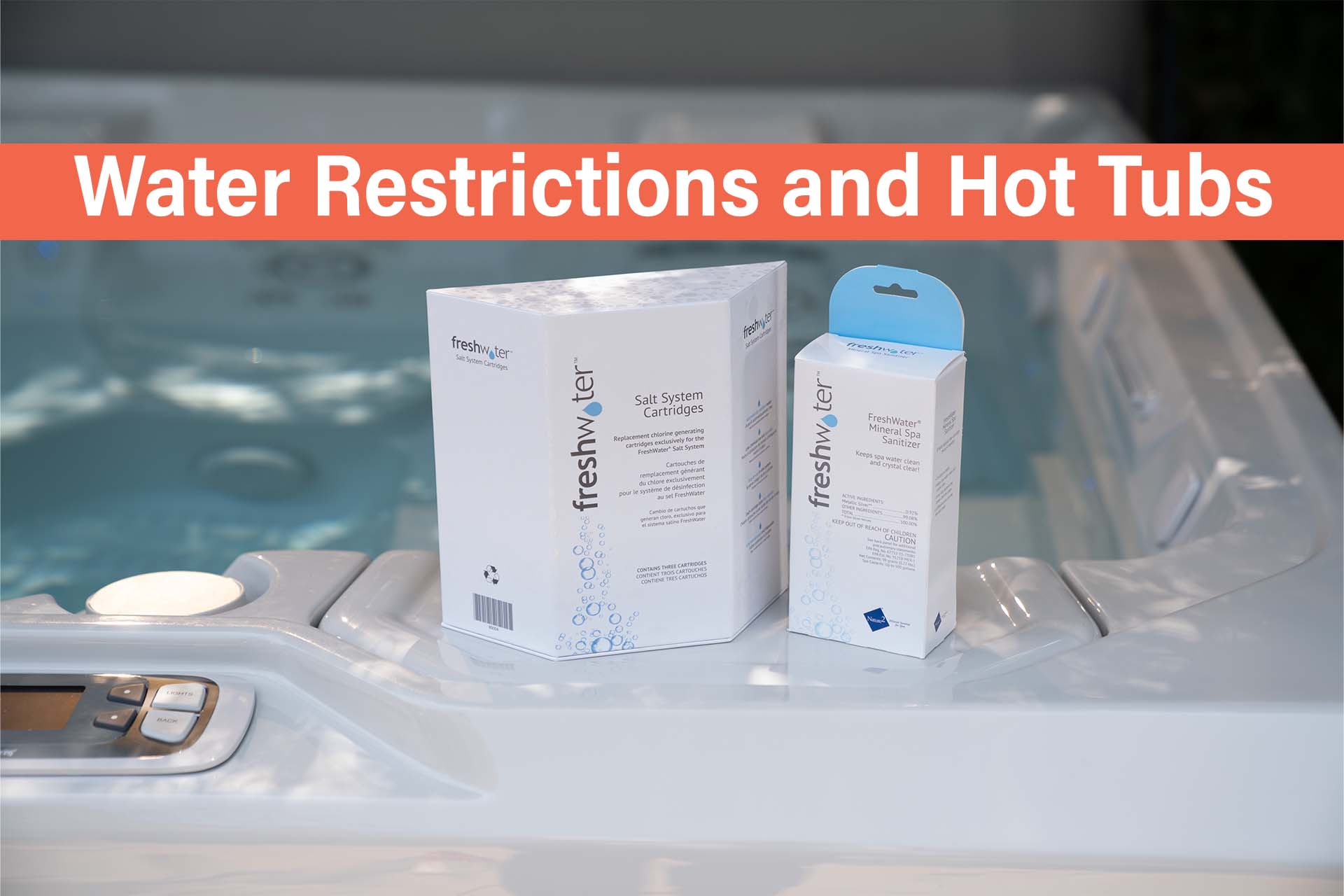 Hot Tubs and Water Restrictions: Can I Fill My Hot Tub When There Are Local Water Restrictions?
Periodically, local governments in areas where we sell hot tubs, place water restrictions on residents.
While we understand that people are concerned about potential financial implications of water use penalties – and to want to use water responsibly – we want to assure you that using, filling or refilling, or draining and cleaning your hot tub water isn't anything to be concerned about during this time. It is also still safe to purchase a new hot tub or swim spa that would need to be filled with water.
Right now, San Jose Water District has implemented their "Stage 3" water restrictions due to drought conditions. They are implementing water rationing and a list of potable water use restrictions. Thankfully, filling new hot tubs and swim spas is not on the list at this time.
The benefit of caring for and using your hot tub properly far outweighs any financial penalties that water districts might impose. Also, all of the hot tubs and swim spas we sell are highly energy efficient and most can function with the same water for a minimum of four months and up to a full year, with proper care. Hot Spring Spas and their FreshWater Salt System, specifically, have been designed with water conservation in mind. Read more about how Hot Spring Spas and their water-saving products here.
Not to mention, that the maximum penalty for filling a large hot tub would be about $5 in San Jose, if you happen to exceeded your water ration.
Feedback We Ae Hearing about Water Concerns
One of our sales team members told us we do have customers who incorrectly believe it is illegal to fill a new pool or hot tub due to the restrictions that were implemented in the last drought. We want to assure you that isn't the case. However, restrictions do change from time to time, and always vary from region to region, so be sure to check with your local water district.
You can read the latest restrictions in San Jose here.
It's true – the rations may affect some of our customers. However, the penalties aren't near as bad as most people think. Recently, we have customers deciding not to drain and refill 2 year old spa water because of water penalties. They feared that it might be very, very expensive. And while you can go a long time without changing your hot tub water, two years is too long. Read more about how often you should change your hot tub water here.
However, even if these customers exceeded their water ration, the penalty would be modest, from $5 for the largest hot tub we sell to $30 for the largest swim spa we sell.
In San Jose, they are charging a "penalty rate" per "unit" of water that is used in excess of your allotted ration. The ration is based on previous water use (around 14 units per month for an average household). A unit of water is 748 gallons and the penalty rate is $7.13. Regular rates in San Jose vary, but are less than that amount, depending on how much water you use in your household.
This means in a WORST CASE scenario, if filling your spa even puts you over your limit, it would cost less than $5 to fill a Hot Spring Grandee. With a capacity of 450 gallons of water, a Grandee is one of the largest hot tubs we sell.
The penalties have caused so much concern, that we had a customer recently ask if it would be cheaper to truck water in to fill her new swim spa. We can guarantee you it would not be. This customer was concerned about an Endless Pool R200, a compact swim spa, that's 12 feet long and contains 1,335 gallons of water. What we want people to understand, is that filling both sides of an Endless Pool E2000, which is 20 feet long, under the penalty rate would cost about $30. The E2000 is the largest swim spa we sell. It uses up to 2,395 gallons of water depending on features selected.
Customers who already have a hot tub and need service that requires draining their hot tub can also rest assured that, even if there was an overage, it would be a very small charge.
Overall, the amount of water used to fill a spa or even a swim spa, is a tiny percentage of overall household water consumption.
In Summary
While it is wonderful to be aware of how much water you are using, hot tubs and swim spas are not big culprits of wasting water, due to the length of time they can reuse the same water as a result of thoughtful construction and water care systems.
Also, we have found that historically, people have used less water during drought conditions, even with a hot tub in their yard. So, take a shorter shower, and a longer hot tub soak! Bonus: You'll be more relaxed, and hopefully, a bit less concerned about your water bill, too.