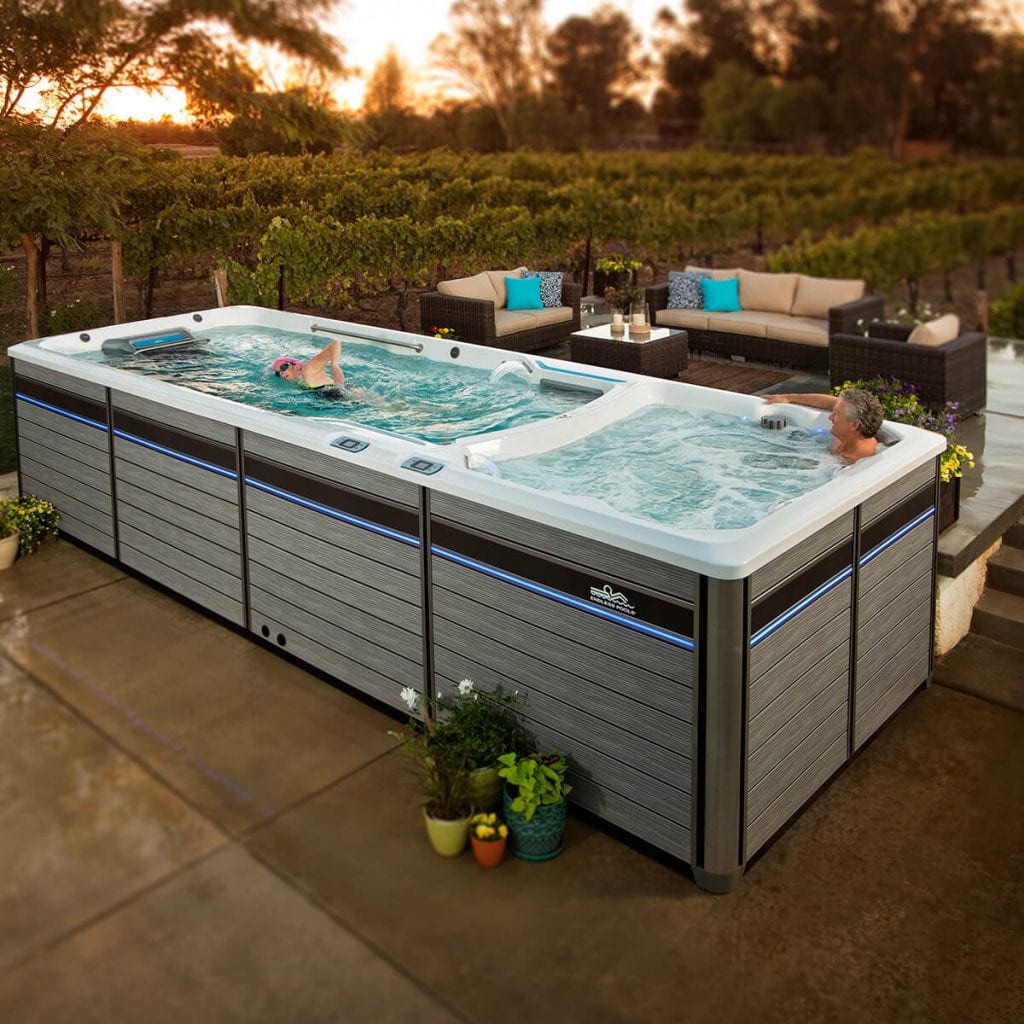 Awesome Benefits of a Swim Spas, Lap Pools Truckee
A swimming pool at home is nice, but limited space and restrictive budgets prevent many families from enjoying the convenience. Luckily, a swim spa is a smart, alternative, allowing families to enjoy tremendous benefits from the comforts of home.
Weight Maintenance and Strength Training
For keeping weight in check, a strong heart and toned muscles, not much beats a few laps in the pool. An in-home swim spa makes it easier than ever for busy families to steal away for a quick 20 minutes in the water.
Relief From Aches and Pains
Sports therapists and health care practitioners agree that water is the ideal environment to relieve pain as it cushions the joints while providing support. Movement in water is easier, resulting in increased flexibility and range of motion long term.
Easy Relaxation
With heat, massage and buoyancy working together, the body and mind relax in tandem, creating a soothing, calming experience. An in home swim spa offers the best of both worlds– soothing hydrotherapy and the enjoyment of swimming in one.
So Go Ahead, Take a Soak, You Deserve It!
It's, fast, fun and relaxing. Not only that, it's good for the body, soothes the mind and can improve your overall health and well-being.
To encourage local residents to check out the benefits of using a swim spa to help improve their overall health and well-being, The Spa and Sauna Company is providing free swim spa test soaks at all their showrooms.
We do recommend however that people wanting to schedule their free 30-minute soak call us ahead of time to reserve their spot.
To learn more about the benefits of owning a swim spa, just give us a call at ☎ 775-852-3838 or visit our website at: https://spaandsauna.com/endless-pools-fitness-systems/
The Spa and Sauna Co.
9748 So. Virginia St. Ste. C-D
Reno, NV 89511
☎ 775-852-3838
https://maps.google.com/?cid=2463027483589999860
The Spa and Sauna Shop
250 E Glendale Ave
Sparks, NV 89431
☎ 775-852-3838
https://maps.google.com/?cid=16064479716723701911
Reno Hot Spring Spas and Billiards
6815 Sierra Center Parkway #100
Reno, NV 89511
☎ 775-851-7727
https://maps.google.com/?cid=921080039542699057
https://twitter.com/spansaunashop
https://www.facebook.com/SpaAndSaunaShop
http://www.houzz.com/pro/webuser-261914/the-spa-and-sauna-shop