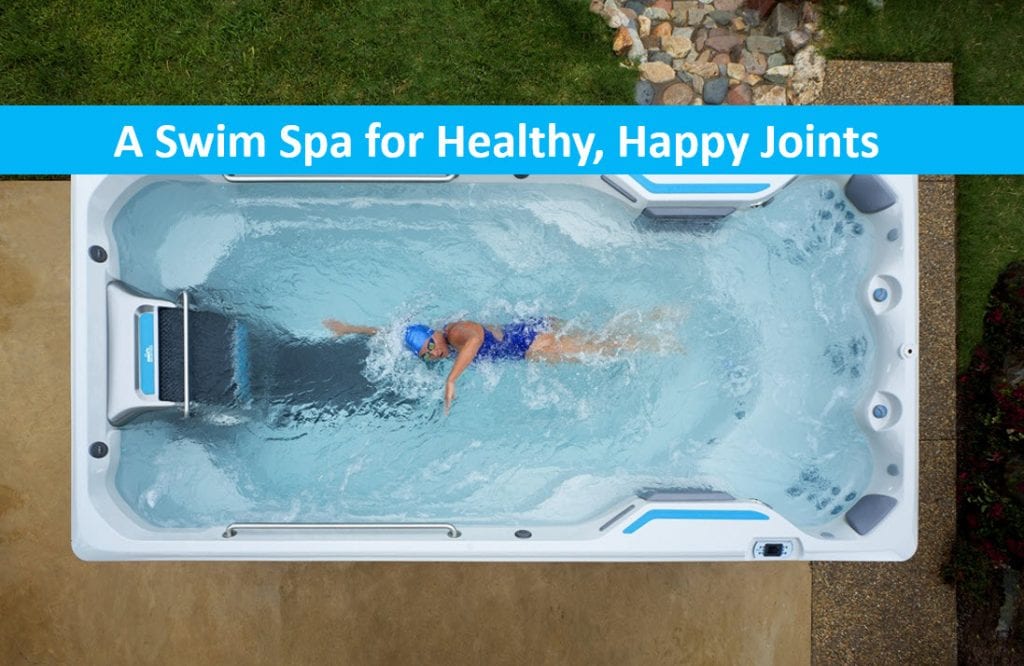 Reduce Back Pain, Relax & Massage in a Lap Pool – Swim Spa Sale Santa Clara, Exercise Spas
An alarming amount of people deal with chronic back pain. Whether it's a chronic condition, or just something temporary, relieving pain is a top priority. Medication can work, but the results are often brief, and not always safe. Why not explore an all-natural approach?
Here's how the swim spa offers the best of both worlds for back pain – a machine for swimming and hydrotherapy in one.
Swim Without Hitting the Wall
When the muscles in the back hurt, easy, cushioned movement is always a good choice. Water is naturally buoyant, meaning you can stretch, move and even swim laps without feeling pain or discomfort. Over time, movement reduces back stiffness, while toning and strengthening back muscles relieving pain and increasing flexibility. With an adjustable current, the swim spa allows freestyle swimming without ever hitting the wall or having to turn around.
Hot Tub Hydrotherapy
A relaxing soak in the hot tub is a great way to stop back pain in its tracks. Luckily, many swim spa models offer two machines in one: a lap pool at one end, and a hot tub spa at the other. With targeted massage and heat, pain slips away instantly, leaving you refreshed, reenergized and ready to face the day. Use the swim spa for pain relief in the morning, after a long day, or in preparation for a deep, pain free sleep.
Aquatic Exercise to Increase Flexibility, Range of Motion
There's a reason why health care practitioners refer patients with back pain to aquatic exercise – it works. Water is a safe, cushioned environment, making movement easy and pain free. With resistance bands, underwater treadmills and more, a swim spa brings a complete aquatic fitness center to your doorstep for anytime use. Over time, and with frequent use, the swim spa makes back pain less frequent as flexibility and range of motion increase naturally.
So Go Ahead, Take a Swim, You Deserve It!
It's, fast, fun and relaxing. Not only that, it's good for the body, soothes the mind and can improve your overall health and well-being.
To encourage local residents to check out the benefits of using a swim spa to help improve their overall health and well-being, The Spa and Sauna Company is providing free swim spa test soaks at all their showrooms. We do recommend, however, that people wanting to schedule their free 30-minute test call us ahead of time to reserve their spot.
To learn more about the benefits of owning a swim spa, just give us a call at ☎ 408-996-9693 or visit our website at: https://spaandsauna.com/hot-tubs-santa-clara-swim-spas-sale/.
Hot Spring Spas of San Jose
2627 S. Bascom Ave.
Campbell, CA 95008
☎ 408-996-9693
https://www.google.com/maps?cid=7239402217658860966
https://spaandsauna.com/locations-san-jose/
Swim Spas San Jose
Hot Spring Spas of Santa Cruz
707 River St.
Santa Cruz, CA 95060
☎ 831-425-7727
https://www.google.com/maps?cid=7323132295424075120
https://spaandsauna.com/locations-santa-cruz/
The Spa and Sauna Co.
9748 So. Virginia St. Ste. C-D
Reno, NV 89511
☎ 775-852-3838
https://maps.google.com/?cid=2463027483589999860
https://spaandsauna.com/locations-south-virginia-st-reno/
The Spa and Sauna Shop
250 E Glendale Ave
Sparks, NV 89431
☎ 775-852-3838
https://maps.google.com/?cid=16064479716723701911
https://spaandsauna.com/locations-glendale-ave-sparks/
Reno Hot Spring Spas and Billiards
6815 Sierra Center Parkway #100
Reno, NV 89511
☎ 775-851-7727
https://maps.google.com/?cid=921080039542699057
https://spaandsauna.com/locations-sierra-center-parkway-reno/