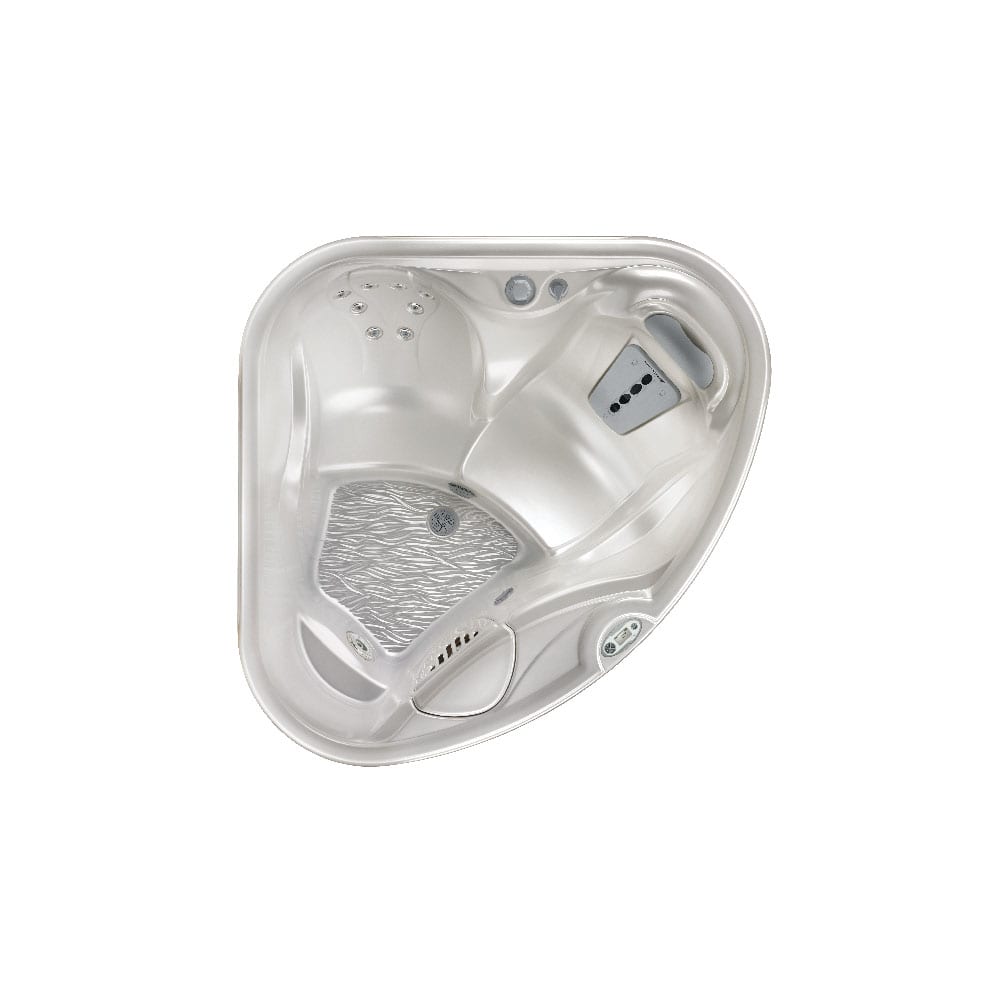 TX
Seating Capacity 2
Water Capacity 140 US gal
Dimensions 5'8.5″ x 5'8.5″ x 29″H
If you want a quality spa that fits easily into a small space, consider the TX corner hot tub model. Enjoy a stylish design and unique features you might expect to find only in much larger spas. For increased efficiency, quieter operation and continuous filtration, add the optional SilentFlo5000® circulation pump. With its slim profile and unique triangular shape, the TX fits through standard doorways, goes up and down stairs and around corners. Compact enough for a second floor deck, yet roomy enough for you to stretch out and relax, the TX small spa model is an ideal choice for a first hot tub or changing lifestyles.
Specifications
Control System
IQ 2020® 115v/15 amp** (Includes G.F.C.I. protected power cord) or 115v/30amp*** or 220v/50amp*** 60Hz
Jet Count 10
Jets 
1 Moto-Massage® jet
1 Rotary Hydromassage jet
8 Directional Precision® jets
Lighting System
Splendors® multi-colored LED light dimmable (optional) Blue LED light
Pumps
Wavemaster® 4000 Two-speed 1.0 HP Continuous Duty 1.7 HP Breakdown Torque
Heater
No-Fault® 1000w/115v
Ozone System
FreshWater® III Corona Discharge
Circulation Pump
SilentFlo 5000® (Optional)
Effective Filtration Area 30 sq. ft.
Dry Weight 525 lbs
Filled Weight 2045 lbs
Vinyl Cover Options 3" to 2" tapered 2 lb. density foam core
Vinyl Cover Colors Ash, Chestnut, Caramel
Shell Color: Pearl, Sand
Cabinet Color: Coastal Gray, Espresso, Teak
Frog @Ease Water Care System Ready
If you want a quality spa that fits easily into a small space, consider the TX corner hot tub model. Enjoy a stylish design and unique features you might expect to find only in much larger spas. For increased efficiency, quieter operation and continuous filtration, add the optional SilentFlo5000® circulation pump. With its slim profile and unique triangular shape, the TX fits through standard doorways, goes up and down stairs and around corners. Compact enough for a second floor deck, yet roomy enough for you to stretch out and relax, the TX small spa model is an ideal choice for a first hot tub or changing lifestyles.

Specifications

Control System
IQ 2020® 115v/15 amp** (Includes G.F.C.I. protected power cord) or 115v/30amp*** or 220v/50amp*** 60Hz
Jet Count 10

Jets 

1 Moto-Massage® jet
1 Rotary Hydromassage jet
8 Directional Precision® jets

Lighting System
Splendors® multi-colored LED light dimmable (optional) Blue LED light

Pumps

Wavemaster® 4000 Two-speed 1.0 HP Continuous Duty 1.7 HP Breakdown Torque

Heater

No-Fault® 1000w/115v

Ozone System
FreshWater® III Corona Discharge

Circulation Pump

SilentFlo 5000® (Optional)

Effective Filtration Area 30 sq. ft.

Dry Weight 525 lbs
Filled Weight 2045 lbs
Vinyl Cover Options 3" to 2" tapered 2 lb. density foam core
Vinyl Cover Colors Ash, Chestnut, Caramel

Shell Color: Pearl, Sand

Cabinet Color: Coastal Gray, Espresso, Teak

Frog @Ease Water Care System Ready